Driven - The Haval Jolion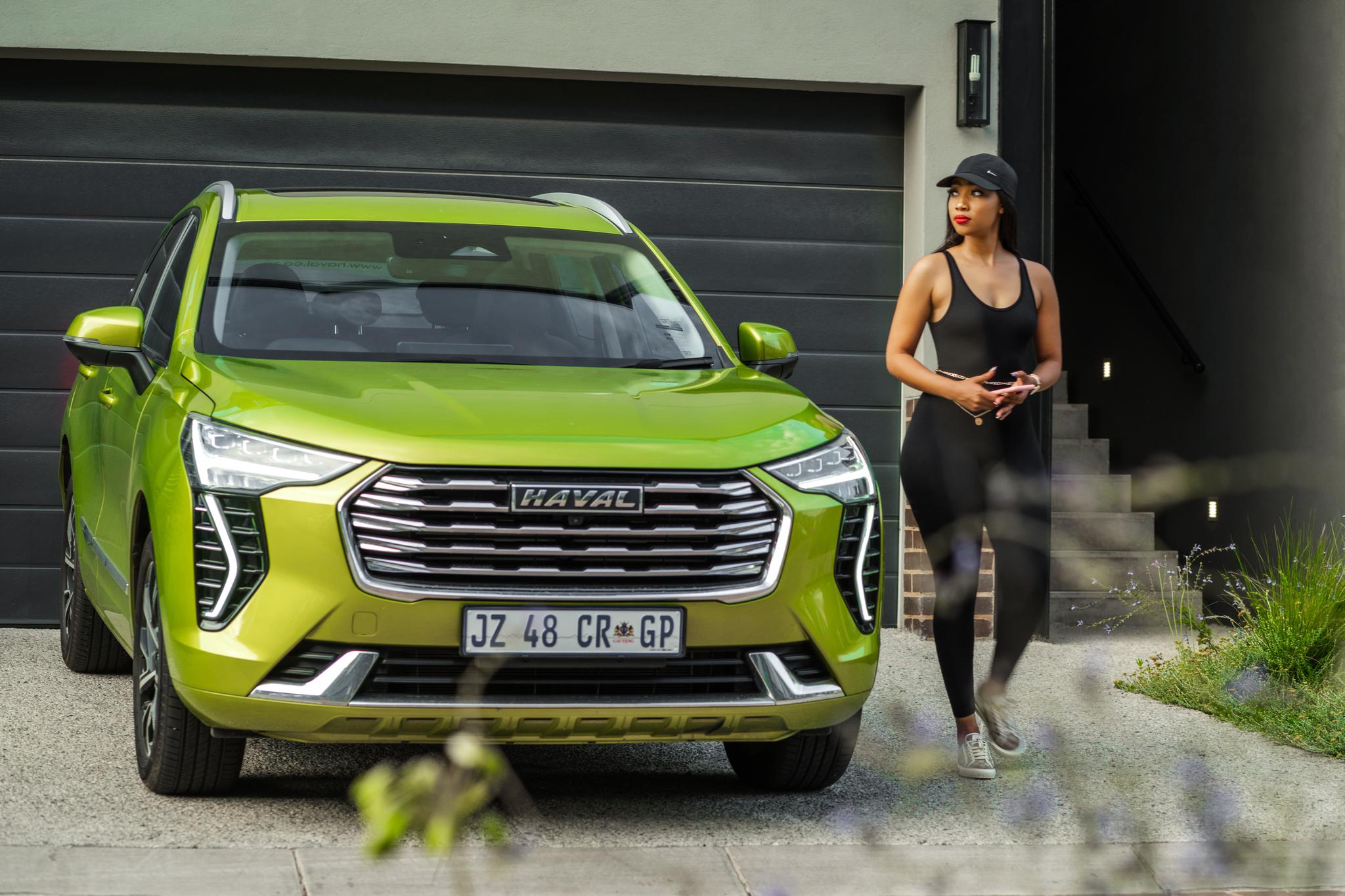 Quick Facts:

Price: From R308 900

Engine: 1.5-litre turbocharged petrol engine
Transmission: seven-speed DCT
Power/Torque: 105kW/210Nm
Looking for a Haval Jolion from a trusted dealer? Click here to view our current deal.  
The Haval Jolion, which was launched in 2021 to replace the Haval H2, which we tested in early 2021, was on hand for sampling. It was well-received by everyone and came in with its eyes set on a huge chunk of the market share and to make contenders such as the Hyundai Venue, the Volkswagen T-Cross, the Ford Ecosport and the Kia Seltos to mention a few.
Featuring a bold look, cutting-edge technology, and an even better price, the Haval Jolion had its work cut out for it. Compared to its competitors, Haval has nailed the sweet spot with the Jolion - both in terms of specifications and price. It was not surprising that it was the top dog in its first year.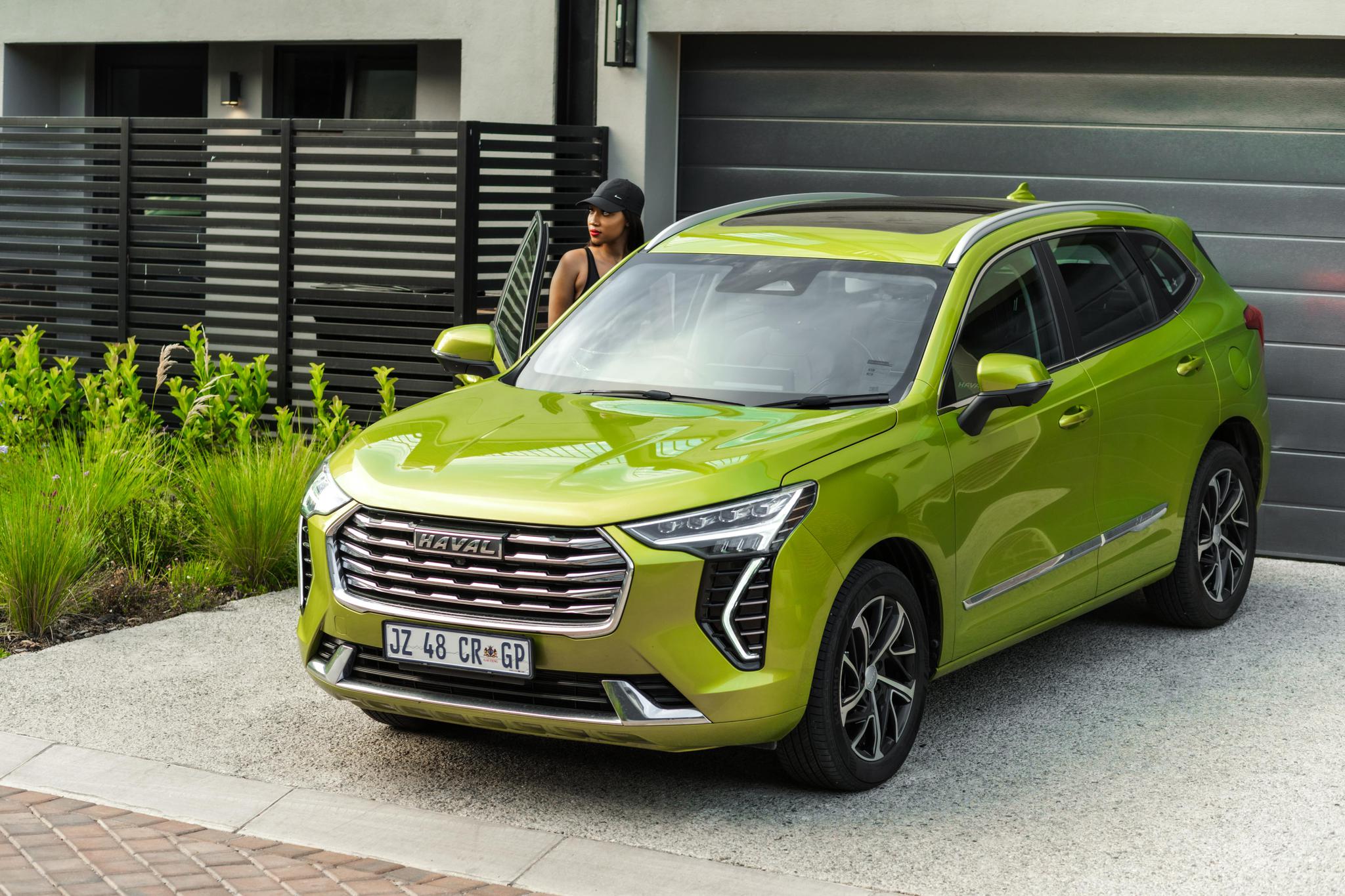 The model we had was the top of the line 1.5-litre Super Luxury model, which had all the bells and whistles. On the outside, the Haval Jolion features full automatic LED lights, 18-inch alloy wheels and a panoramic sunroof, among other features.
Inside, a 12.3-inch infotainment display which has phone mirroring capabilities, a 7-inch digital drivers display that is also found in the GWM P-Series Luxury tourer, an 8.6-inch Heads-up Display with Traffic Sign Recognition, 6-way electrically adjustable front seats, a wireless charging pad, leather stitched seats among a host of other features. Our only gripe with the interior is the digital driver's display (we have had the same issues in the P-Series) which is a bit dark during the day. The seats are comfortable and offer lumbar support so our long trips did not feel long at all. Haval/GWM has put a lot of thought and work into the ergonomics of the car, most of the functions being driver-oriented and accessible to the driver.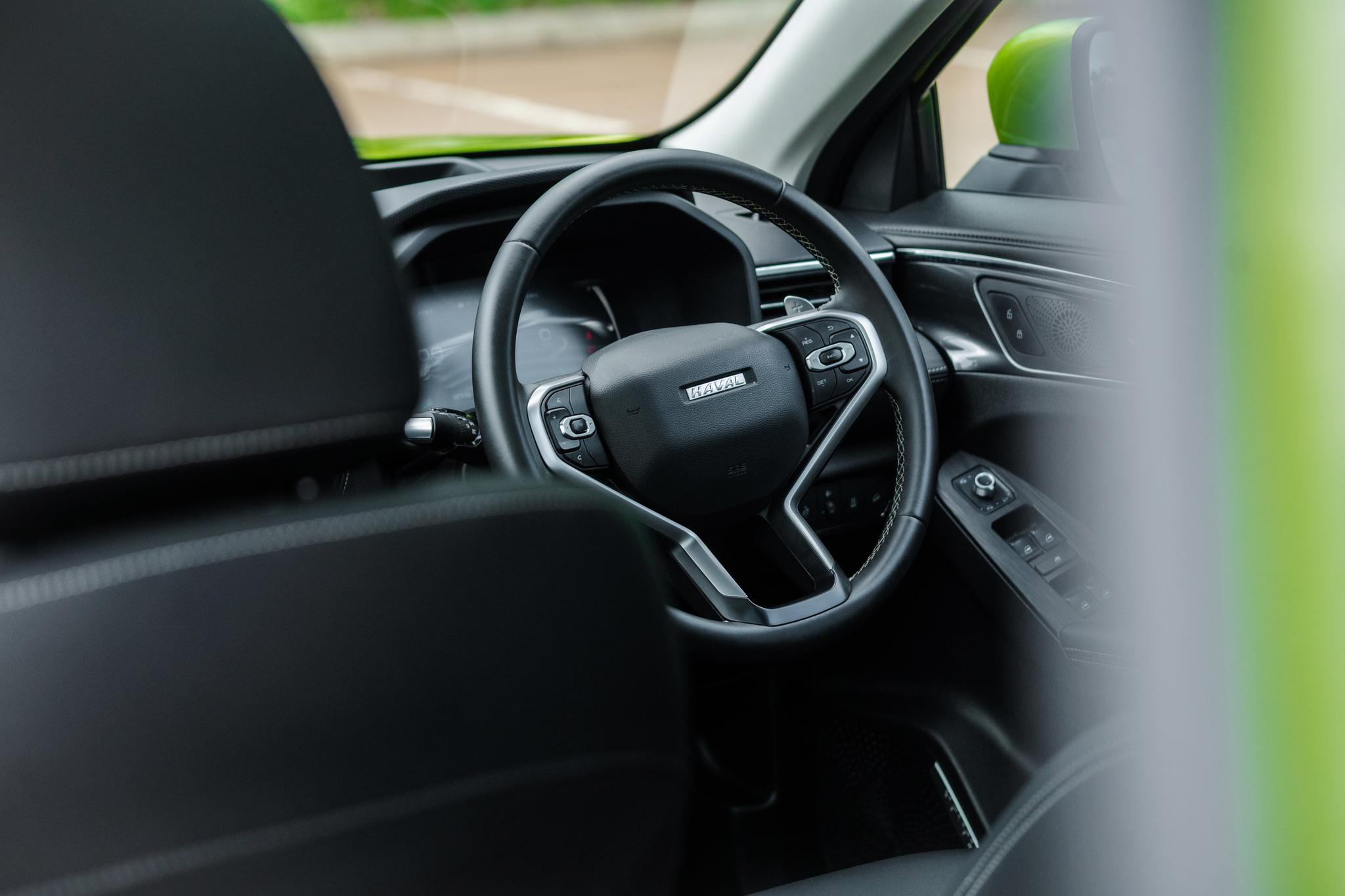 With its 4 USB ports, the Haval Jolion ensures that everyone on board will be able to charge their devices. However, we did not like the placement of the USB ports on the front. They are hiding under a tunnel, which was left for storage and is a difficult area to reach.
Another pet peeve? There isn't a volume button. In fact, there aren't buttons at all. Most of them are capacitive buttons that you sometimes accidentally press. However, over time, you get used to them. Most of the functions are accessed via the infotainment screen. You need to dig deep to actually find what you're looking for, so it's wise to do it before getting on the road.
Interior Roundup:
Leather Steering Wheel with paddle shift, 6 Speakers, Leather Seats, 60:40 Split Folding Rear Seats.

In terms of the drivetrain, the Jolion is powered by a 1.5-litre turbocharged petrol engine that produces 105kW/210nm of torque via its 7 speed ZF automatic transmission (a manual transmission is offered in its entry-level City grade as well as the Luxury Grade). Petrolheads might think that the ZF transmissions are glorious but this was not the case in the Jolion. The gearbox has not been properly calibrated. There is some considerable lag that is enough to drive a mad man insane. Overtaking needs a lot of planning. You put your foot down and the gearbox tends to think at times(it thinks a lot, leaving the driver frustrated especially in ECO mode). However, all is not lost. Even at highway speeds, the Jolion is surprisingly quiet, except for a bit of wind noise, and its overall noise insulation impressed us. It has a comfortable ride quality, perhaps more so than most rivals. Young families that wish to ditch saloons and hatchbacks will find it a good place to start.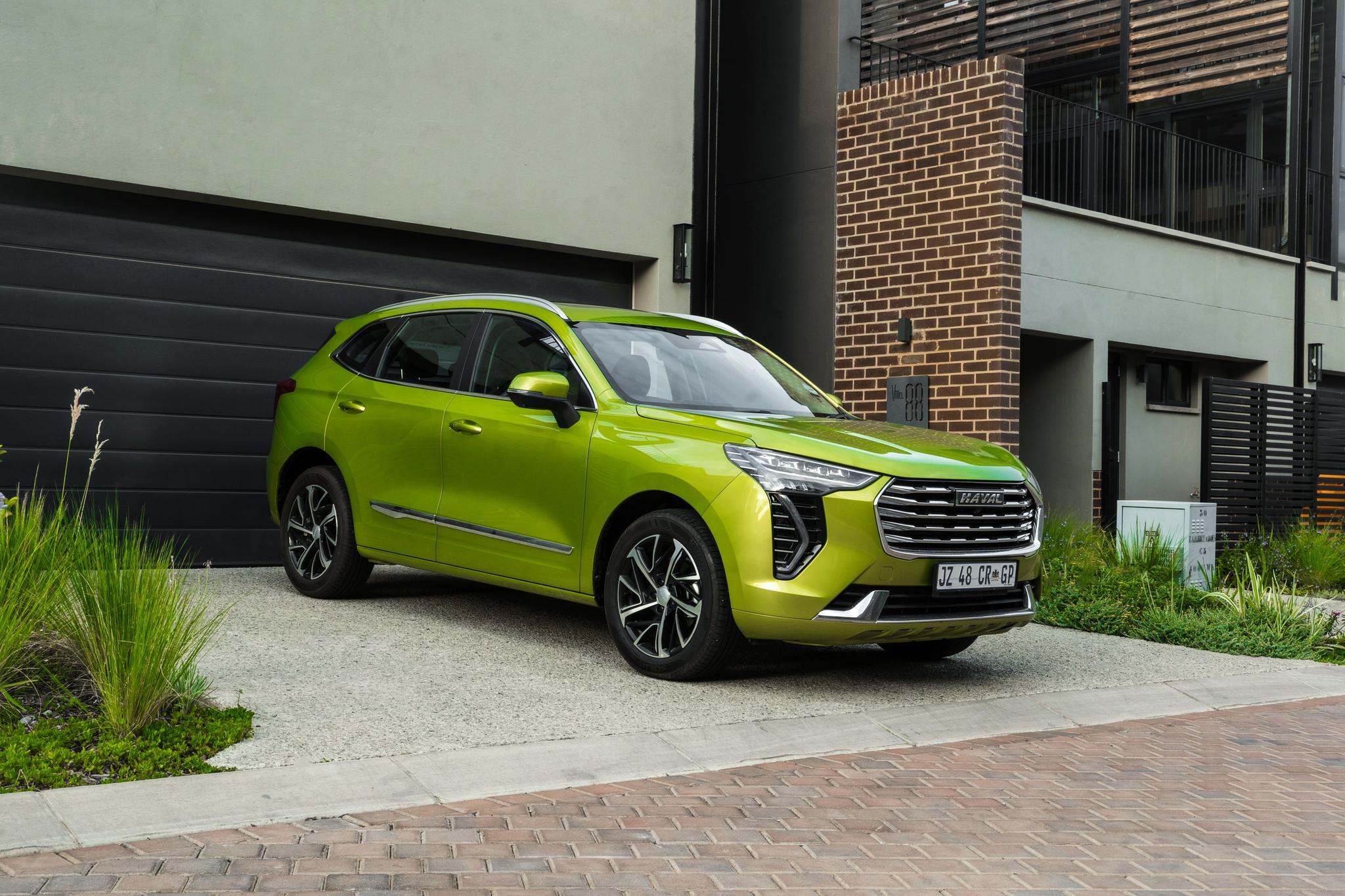 Safety and autonomy have clearly been the mandate with the GWM/Haval brand. The Jolion is equipped with numerous driver aids that make it nearly impossible for you to get into a mess, be it parking or lane-keeping. However, these systems can get quite intrusive. Sure, you are able to switch them off (do so at your own peril). The lane keep assist with centering always looks out for the lines on the road. Despite this, we decided to turn that function off. This is because we felt like we could do a better job of keeping the car centred and in the lane, without blaming Haval Jolion, more of our infrastructure.
Safety Features:
Keyless Entry and Push Button Start, Adaptive Cruise Control
Dual, Curtain & Front Side Airbags, ABS + EBD as well as Brake Assist, Anti-Roll System, Hill assist
360 Degree Panoramic Camera, Blind Spot Detection and Lane Change Assist, Lane Departure Alert, Lane Keeping Assist and Lane Centre Keeping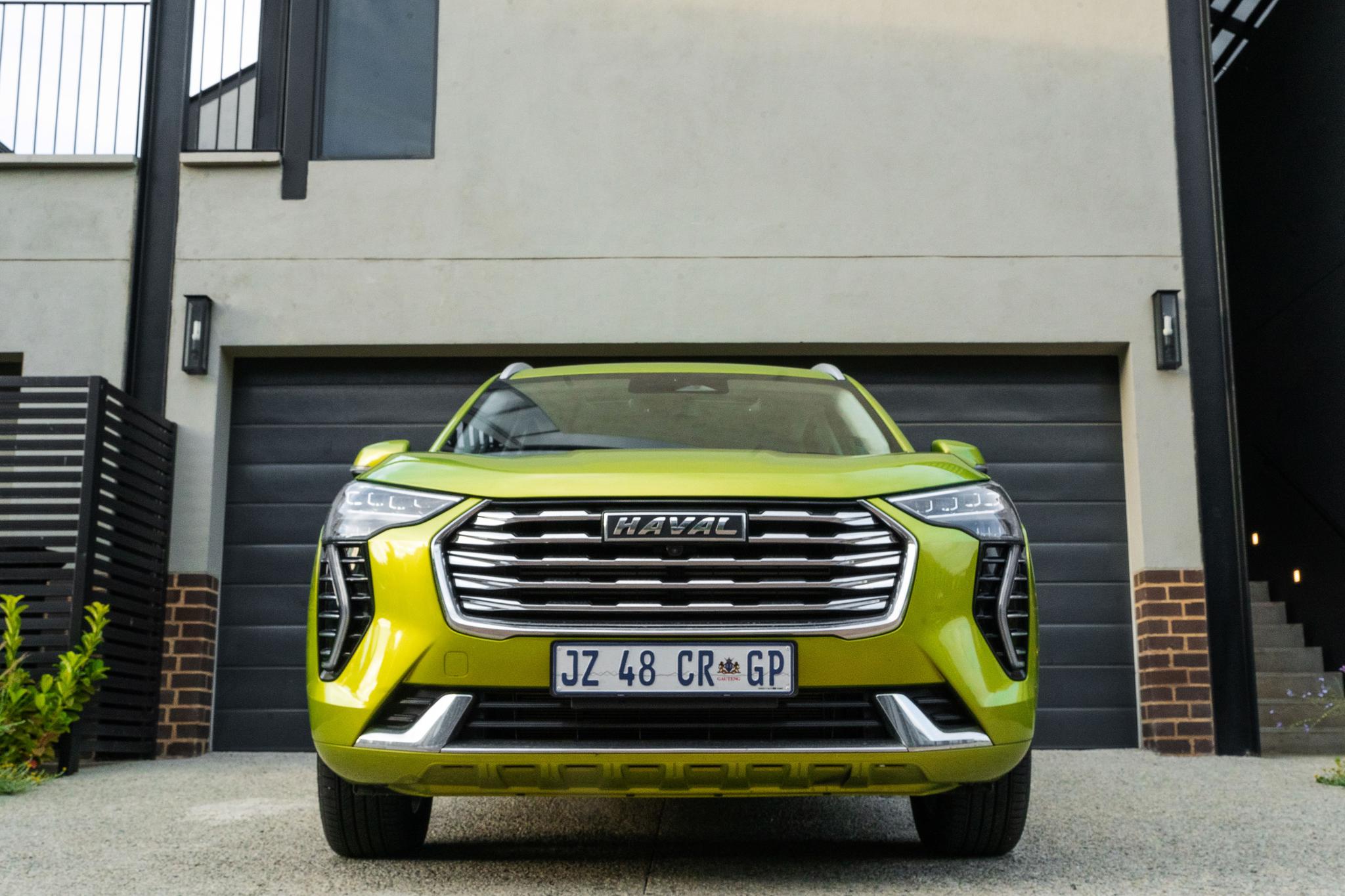 Overall, the Haval Jolion is a stylish looking car. The company has made remarkable strides over its competitors. The competition will need to work extra hard to try and match its level of technology as well as its price point. However, the lag reminded me of the Haval H2 so much that I felt like all they did was a body makeover instead of a complete makeover. Fuel consumption is also far off the claimed 7.5l/100km with our best coming in at 9.2l/100km during our time with it. I think that should they decide to have a facelift in the next coming years, it should start in the engine bay because everything else is brilliant.
Pricing
The Haval Jolion is priced from 309 900 with our test unit coming in at 408 900. It is offered with a five year/100 000 km warranty, a five year/unlimited-kilometre roadside assistance as well as a five year/ 60 000 km service plan. 
Looking for a Haval Jolion from a trusted dealer? Click here to view our current deal.