Facelifted Jaguar F-PACE now in SA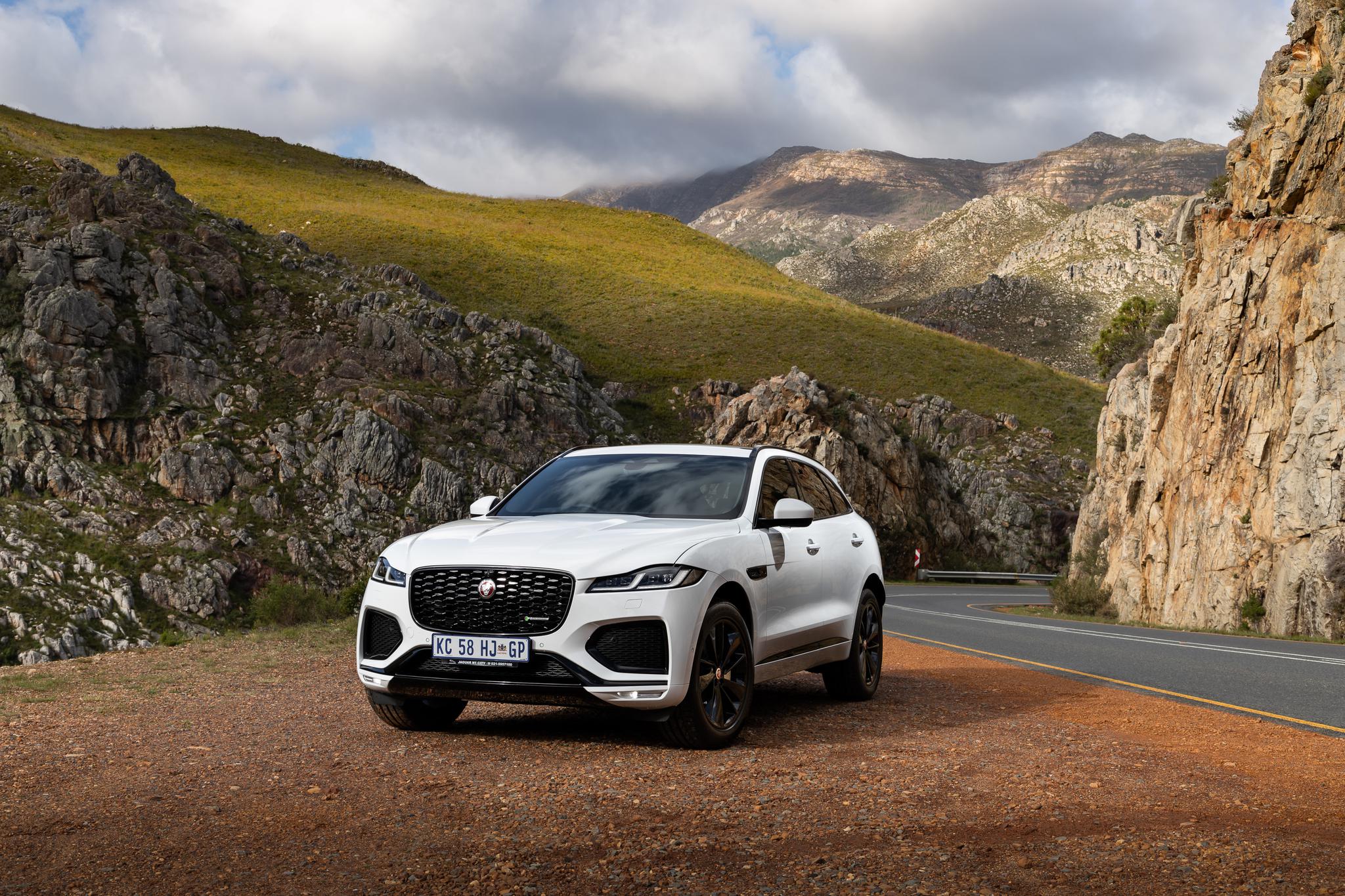 Boasting new exterior styles, beautifully crafted brand new decorations, new engine options and the latest generation Pivi Pro infotainment system, the new Jaguar F-PACE is now available in South Africa. The award-winning high-performance SUV offers a cleaner and more solid presence thanks to the new work bonnet, which has wider, power protrusions and a softer, more precisely defined surface. 
The new bonnet also reduces the number of shut lines on the front of the vehicle, contributing to a more noticeable deadline. "Diamond" details inspired by the Jaguar Heritage logo can be seen on the magnified grille, and the side fender vents now have the iconic one-ripper emblem. The front bumper provides a more dynamic presence with a redesigned intake and dark mesh details. Can be used with pixel LED technology (optional) "Double J" Weekly Driving etc. (DRL) signature applied new ultra-thin allLED quad headlights offer improved resolution and brightness The adaptive driving beam function evaluates the road ahead and automatically adjusts the high beam to provide future traffic signals and traffic signs. This system does not distract the attention of other drivers. To optimize visibility, you can select different LED segments to create different ray patterns.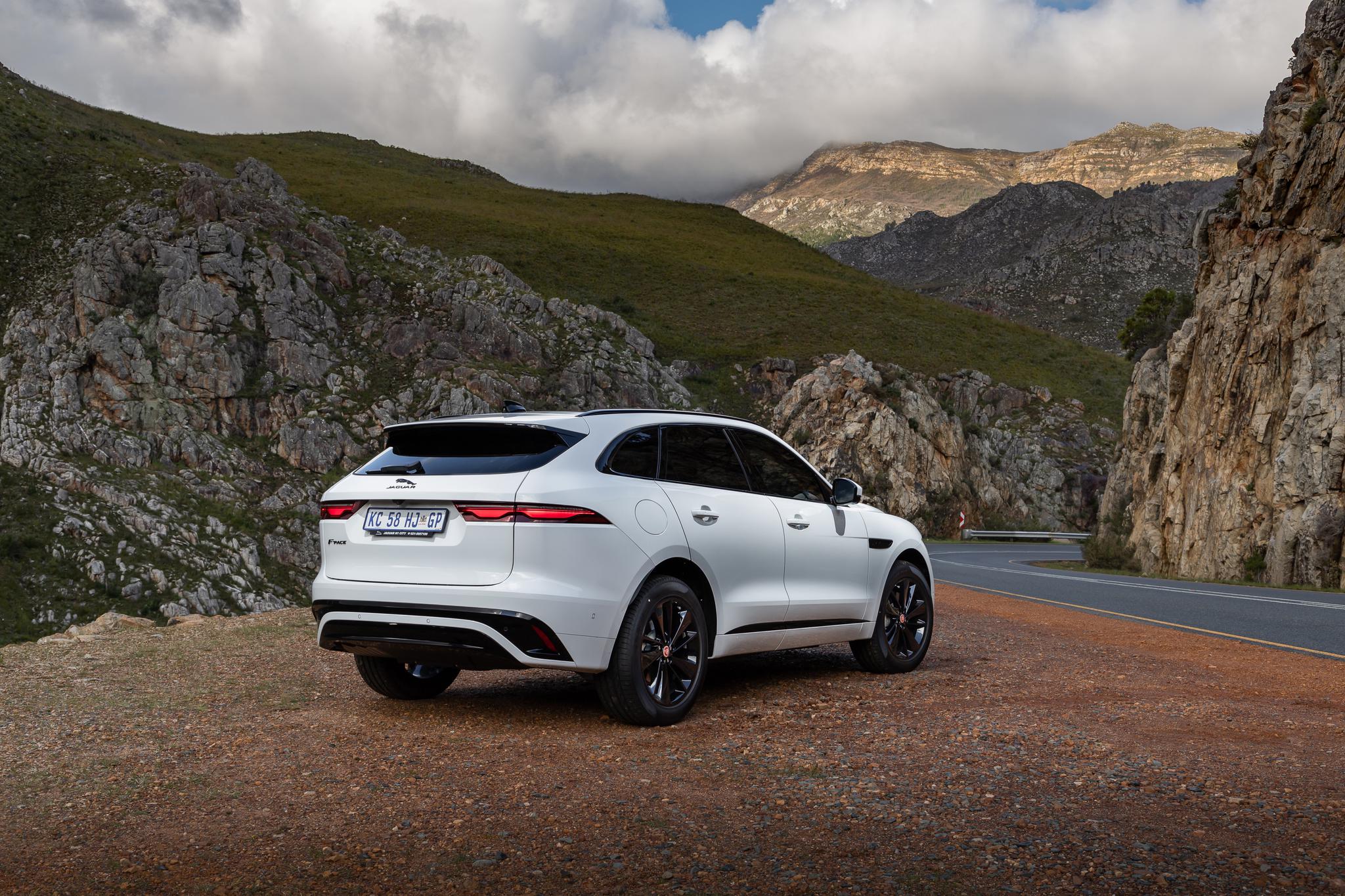 Premium LED technology is standard equipment throughout the product line SE and can be used with the HSE model's automatic high beam assist. The animated orientation indicator is available on all models if it is included as part of an additional connectivity option. The new slimline taillight features Jaguar Double Cane graphics (which was previewed first at the All-Electric IPACE) and has an improved rear bumper design and a new sculpted tailgate adding a more confident look. All models are available as an additional black outer pack with custom elements made in gloss black.

Interior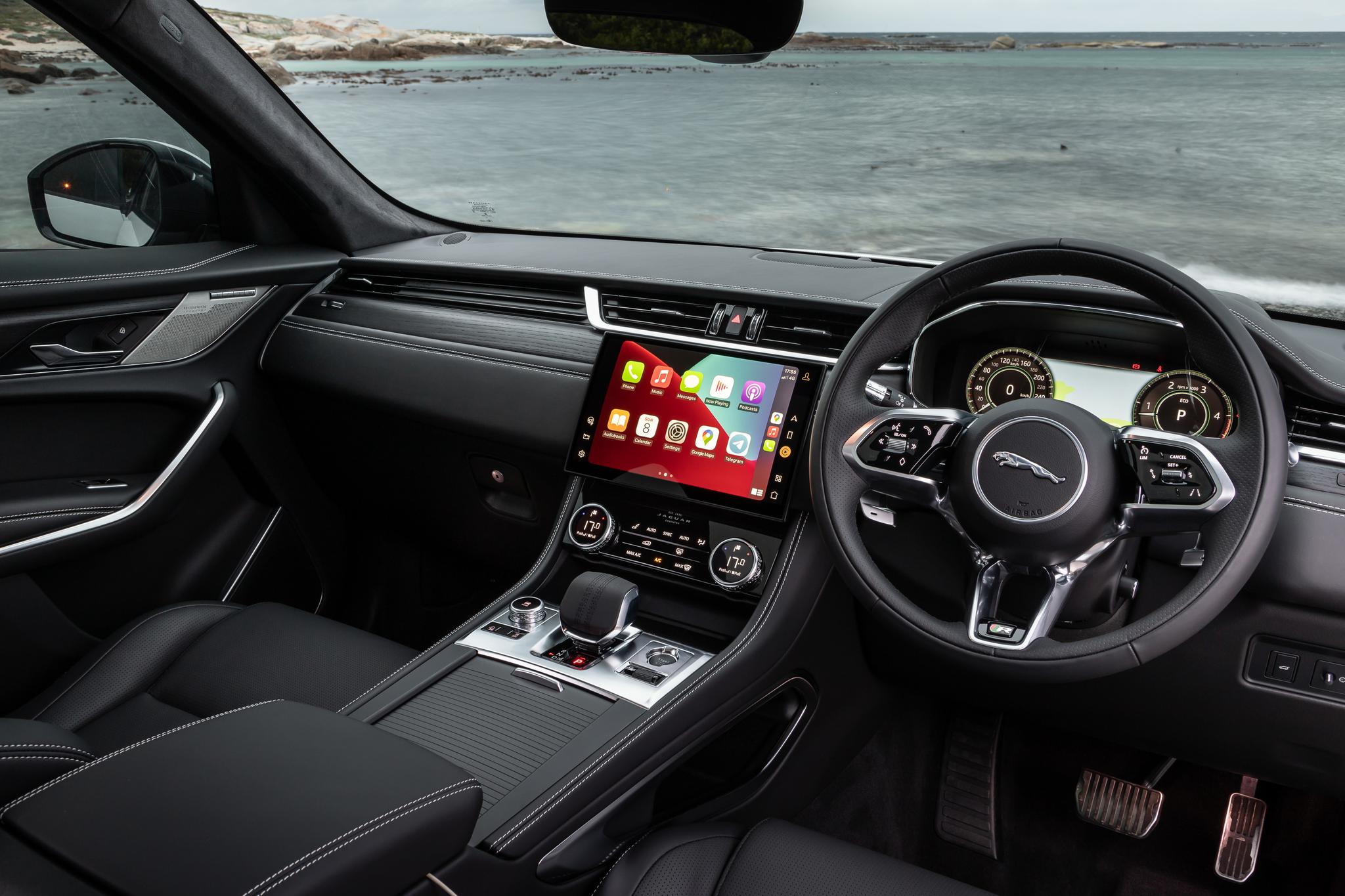 At the heart of the new interior is a centrally mounted 11.4-inch curved glass HD PiviPro touchscreen in an elegant magnesium alloy case. New finishes such as open-pore wood plywood or aluminium can be seen on the upper door inserts and the wide "piano lid" formed across the width of the instrument panel. The new centre console incorporates a wireless charger and greater storage capacity while the instrument panel The swept and laser-etched midline speaker frets and the metal rotating dial on the JaguarDrive controls symbolize attention to detail. The new drive selector features a top section finished with "cricket ball" stitching and a precision-designed metal subsection. The new door casing now has a 360-degree handle for easier access to beverage bottles and other items, giving you more storage space. The electric window switch has also been moved from the top to the bottom of the door roll for easier access for passengers.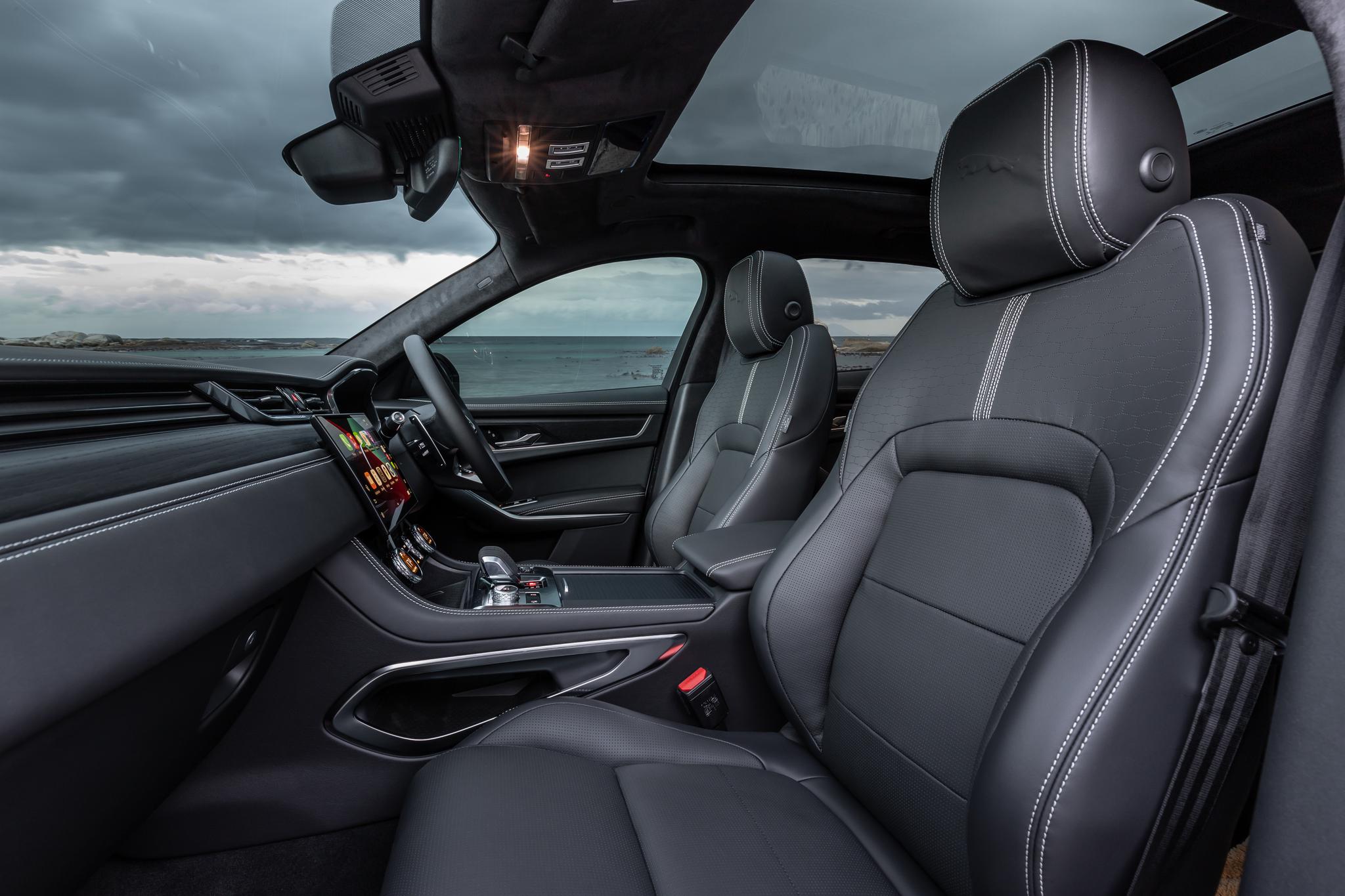 The new seat design features wider cushioning, new massage features and an improved range of heating and cooling areas. "Est. 1935 Jaguar Coventry" The set of upholstery tags emphasizes the brand's heritage, and the embossed Jaguar Leaper is included in all headrests of the selected model. Cabin air ionization option with allergens Improves indoor air quality through Nanoe technology that eliminates unpleasant odours. The improved system is equipped with a PM2.5 filtration function that captures ultrafine particles including PM2.5 fine particles and improves the health and well-being of occupants. The system is activated by simply pressing the "Purify" button.


Connected tech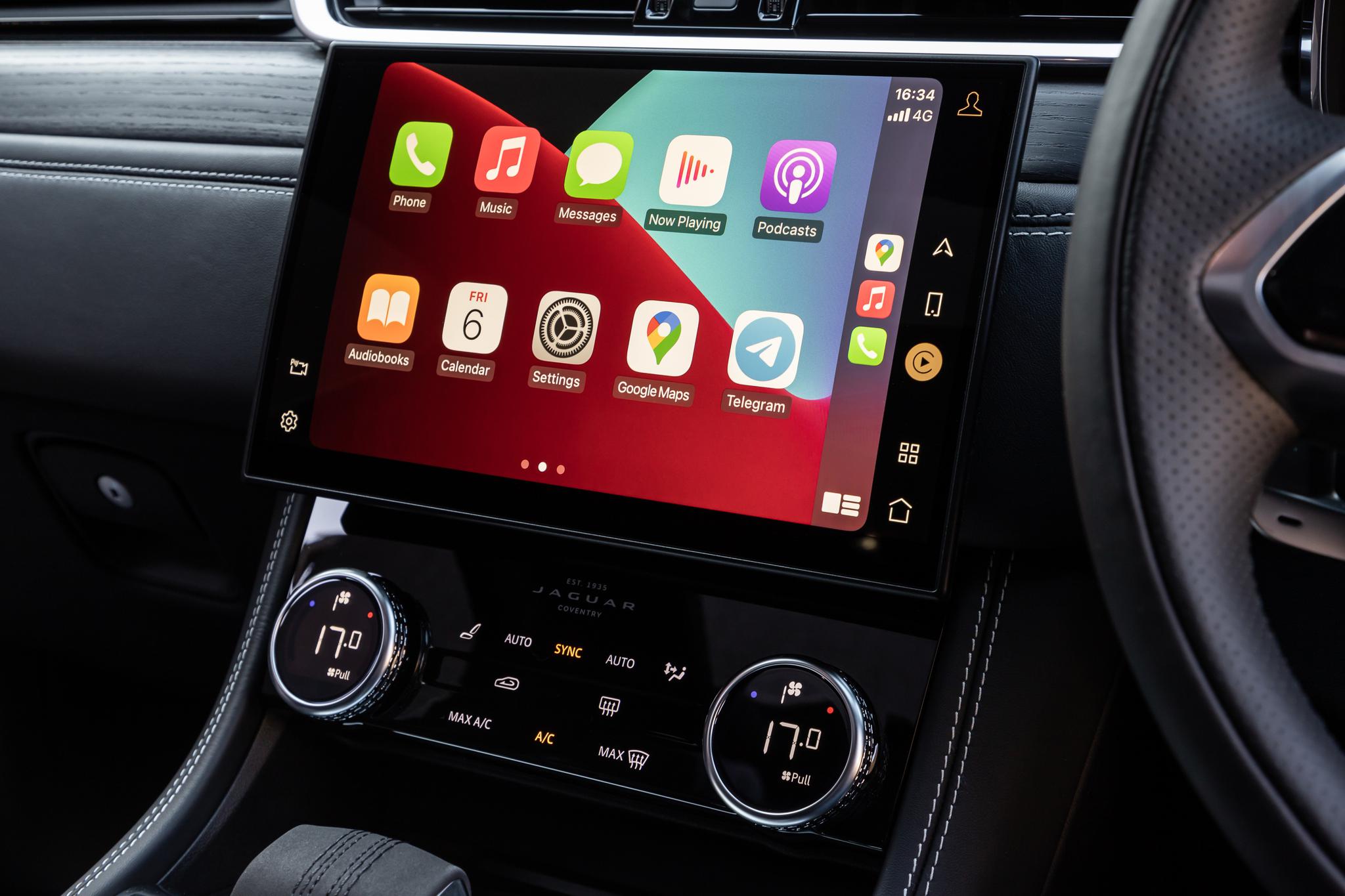 The latest PiviPro infotainment system is accessible from an all-new 11.4-inch curved glass HD touch screen. The screen is three times brighter than the previous 10-inch screen, and 48% has a greatly simplified menu structure, allowing you to access or view up to 90% of common tasks from the home screen under a driver double-tap. The new intuitive infotainment system features standard AppleCarPlay and AndroidAuto, allowing customers to connect two phones simultaneously via Bluetooth. Phone Signal Booster Depending on the wireless device charging, residents can quickly charge their smartphones. In addition, the system provides a clearer call with the help of an external antenna. The Pivi Pro system has its own dedicated power-on immediately, so it's ready to use as soon as the driver grabs the handle. 
The F-PACE also has a 12.3-inch HD interactive layout that can display a full-screen navigation map containing turn-by-turn instructions, digital dials, media, contact lists, or infotainment details. Equipped with a driver display. Working in conjunction with the latest heads-up display technology, the new F-PACE provides drivers with all the information they need without interference.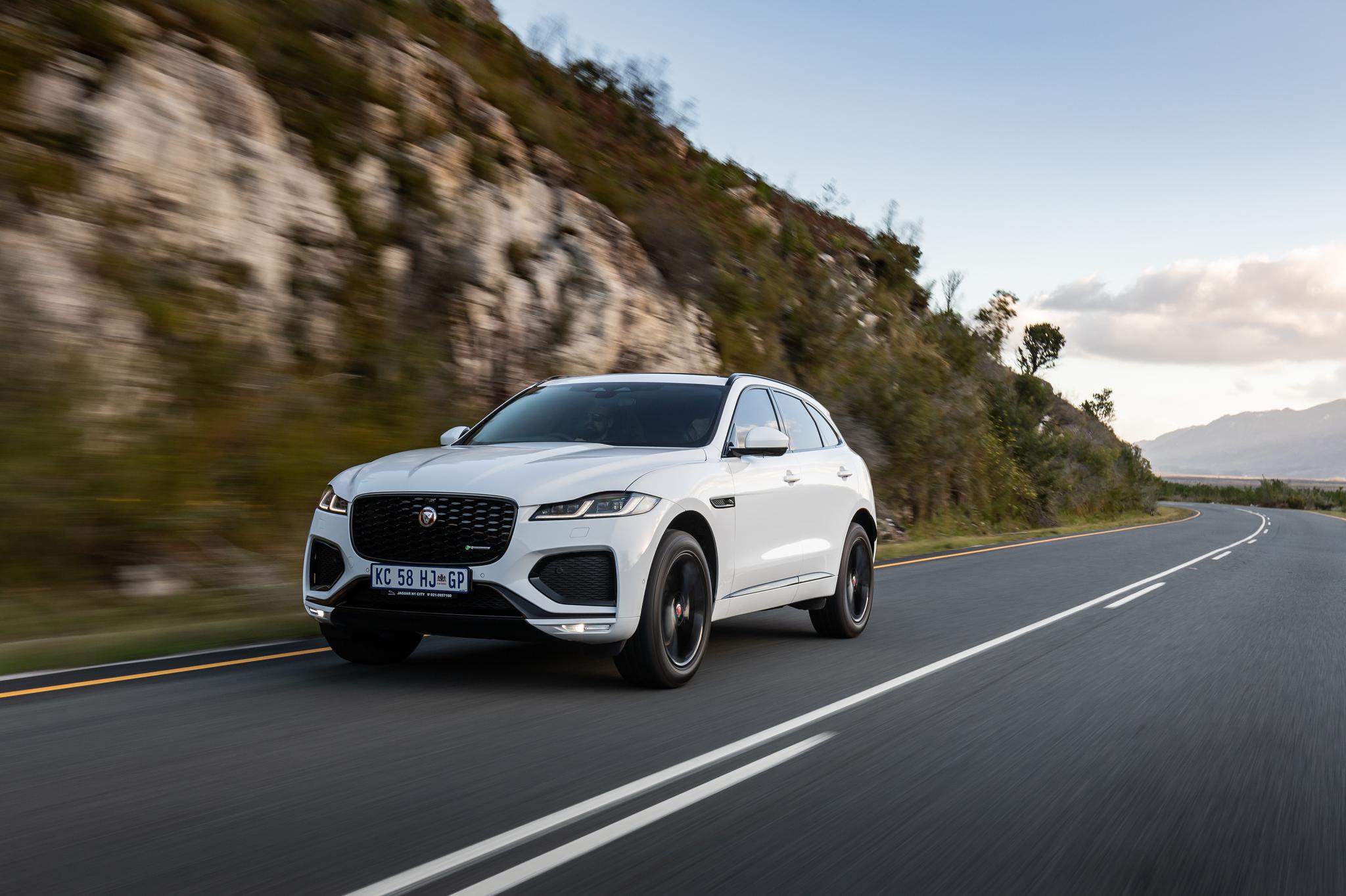 Output and Performance
The new F-PACE is available in South Africa as an option for two diesel and three petrol engines and features all intelligent four-wheel drive and eight-speed automatic transmission. The diesel selection includes the next-generation 147kW/430Nm D200 2.0-liter 4-cylinder Ingenium, and the new D300 3.0-litre in-line 6-cylinder diesel produces 221kW and 700Nm to provide acceleration at 0100km/h in 6.4 seconds.
A 2.0-litre 4-cylinder P250 Ingenium engine (184kW and 365Nm) completes 0100km/h testing in 7.3 seconds and acts as an entry point in the gasoline range. Mild hybrid (MHEV) system. The system features state-of-the-art engine technology, including a twin-scroll turbocharger and an electric supercharger supported by CVVL (Continuous Variable Valve Lift), a strong combination of sophisticated performance and efficiency. With the P400, the new F-PACE can reach 0100km / h in 5.4 seconds.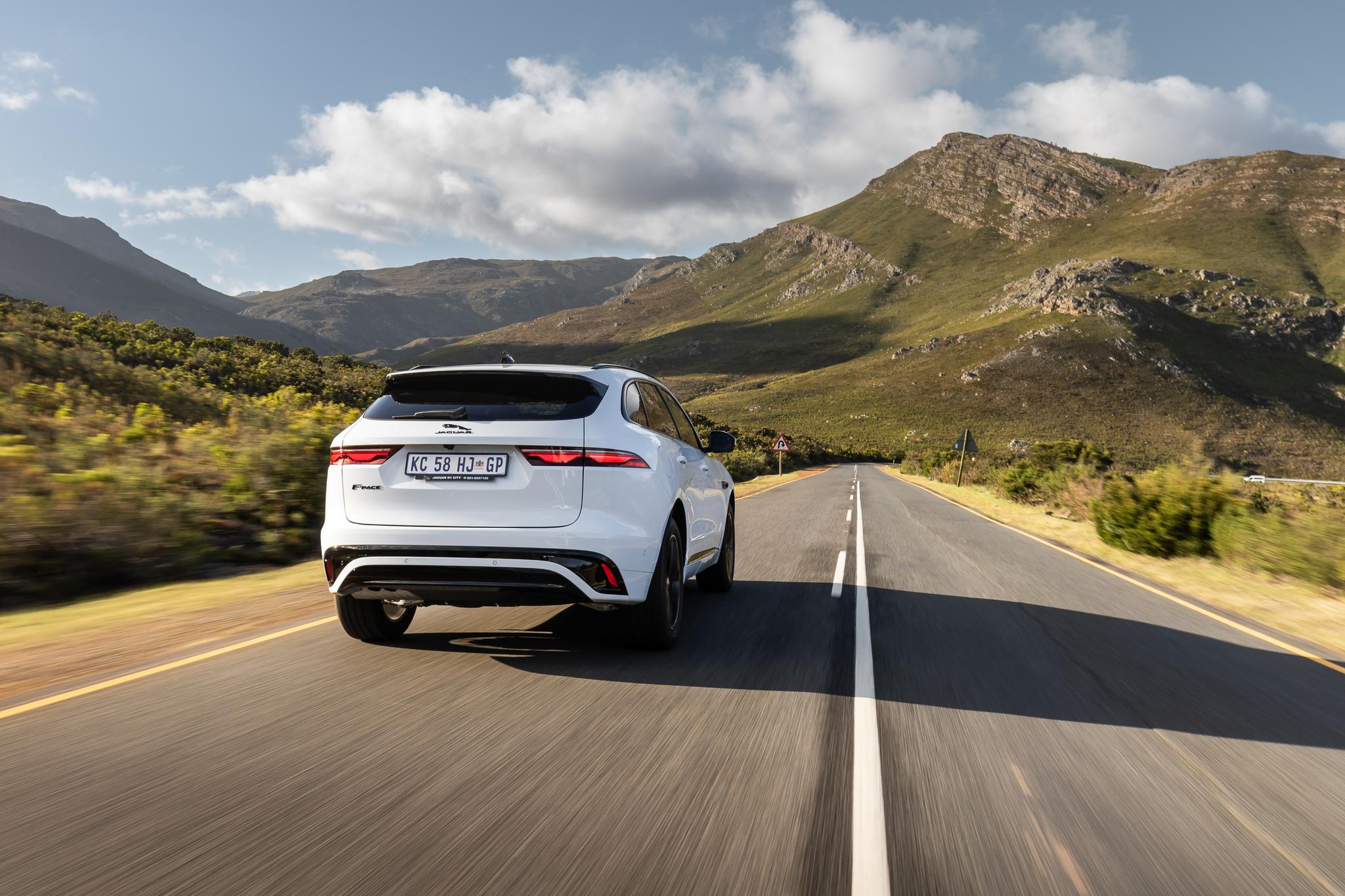 The new 2.0-litre four-cylinder plug-in hybrid (PHEV) model generates a total of 297 kW and 640 Nm from its gasoline engine and 105 kW electric motor. The advanced electric motor is equipped with a lithium-ion battery of 17.1 kWh, CO2 emission at 49 g/km*, the fuel efficiency of 2.2 l/100 km, and an excellent performance of 0100 km/h in 5.3 seconds. When fully charged, the new PHEV is capable of up to 53 km of full-electric drive, while the new F-PACE PHEV can complete an average of 30.2 km* commuting per day in EV mode without requiring recharging. Fast charging (32kW DC) can provide a 080% charge in 30 minutes, while a domestic 7kW wallbox can provide a 0-80% charge in just 1 hour and 40 minutes. All engines are mated to Jaguar's eight-speed automatic gearbox. This automatic gearbox can use shift paddles on the steering wheel to increase driver engagement in control. Four-wheel drive is standard on all FPACE models, and Intelligent Driveline Dynamics provides rear-wheel drive deflection performance with the ability to change the torque on individual axles almost immediately, depending on conditions.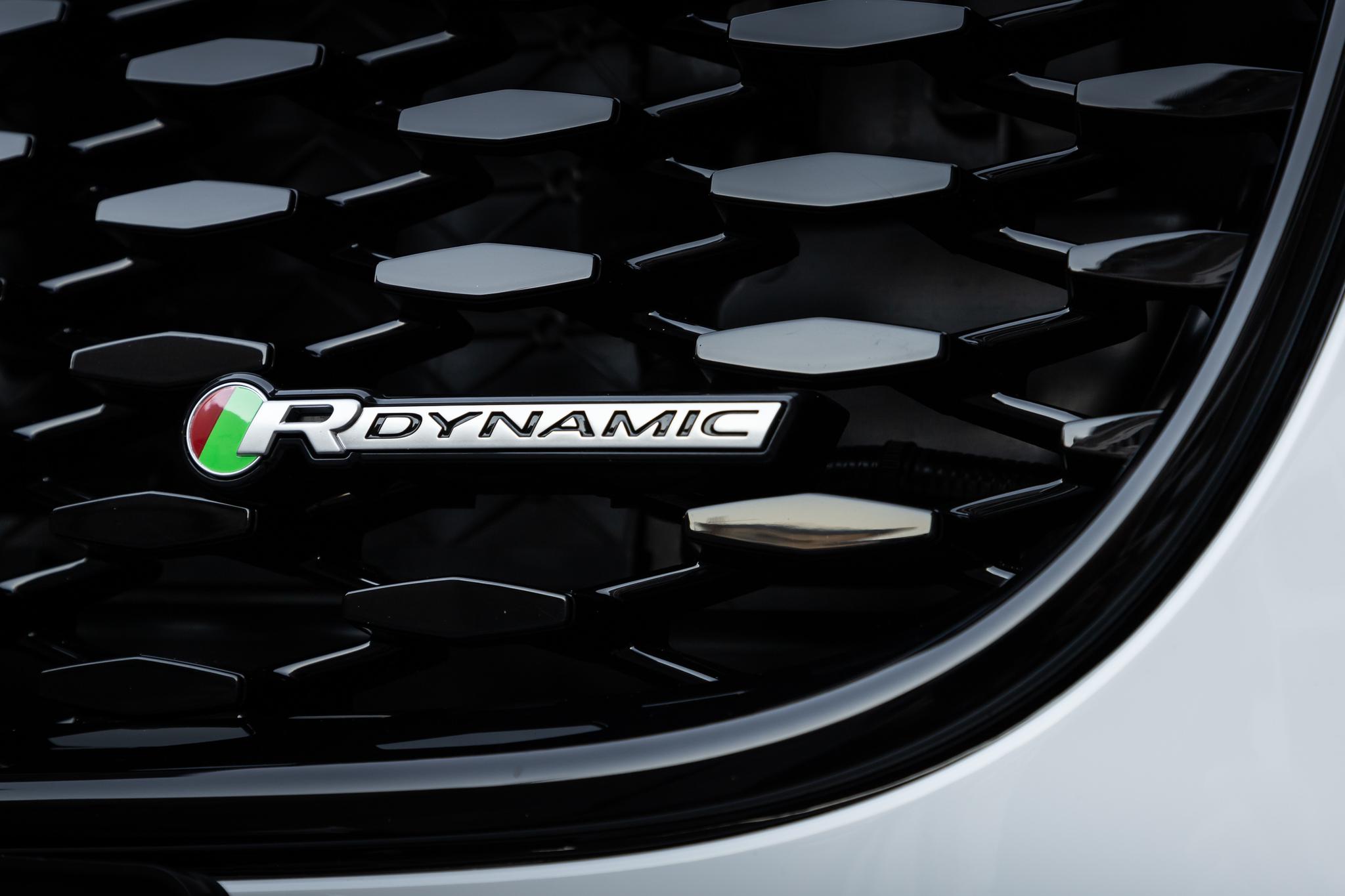 New F-PACE R Dynamic Black 
The solid and dynamic presence of the F-PACE is further enhanced by the combination of R Dynamic Black and customization features. The Black Pack has now been improved with Gloss Black finish applied not only to door mirror caps, but also to the grille, grille surround, side window surround, fender vents with the iconic Jaguar Leaper emblem, rear balance and rear medium. This is a perfect complement to the Gloss Black 20-inch `Style 1067` wheels. The red brake calliper emphasizes the design of the prominent wheel. The theme continues with gloss black roof rails and a fixed panoramic roof instead of the silver roof rails available as an option on the core model. All colours are available including FPACE RDynamic Black one solid finish, 7 metals including the new Ostuni White and 2 premium metallic paints. The F-PACE finely crafted interior is further enhanced in RDynamicBlack with bright metal pedals in contemporary satin charcoal ash veneer. Enhanced premium cabin lighting features increase a sense of serenity and sophistication. Available on all other models in the range, this gives the driver a choice of 30 colours instead of the previous 10 colours.
New F-PACE pricing
F-PACE D200 R1,122,500
F-PACE D300 R1,233,200
F-PACE P250 R1,214,500
F-PACE P400 R1,239,400
F-PACE P400e R1,610,100
F-PACE D200 R-Dynamic R1,190,500
F-PACE D300 R-Dynamic R1,301,000
F-PACE P250 R-Dynamic R1,282,400
F-PACE P400 R-Dynamic R1,307,300
F-PACE P400e R-Dynamic R1,672,700
F-PACE D200 R-Dynamic Black R1,176,600
F-PACE D300 R-Dynamic Black R1,287,100
F-PACE P250 R-Dynamic Black R1,268,500
All prices include VAT but exclude CO2 tax. All Jaguar vehicles come with a standard 5-year/100,000km Jaguar Care Plan and warranty.