The new Porsche 911 GT3 RS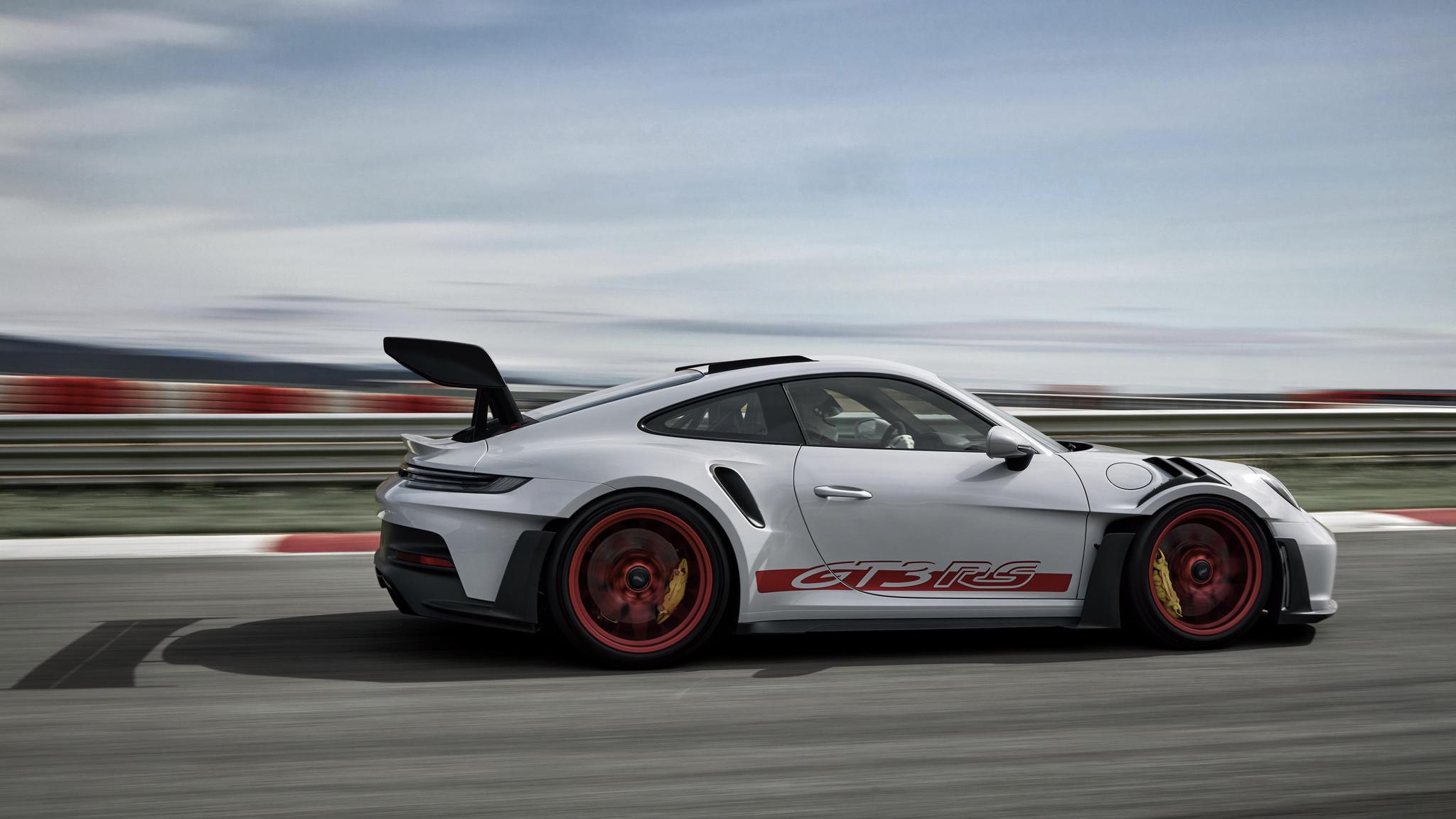 By Aphiwe Nzimande
Porsche has revealed their 7th iteration of their most ferocious 911, the GT3 RS. Porsche and Porsche's motorsport collaborated on this project, so as you may imagine, this GT3 RS is filled with clever aero-work and extensive chassis rework.
The exterior of the GT3 RS is similar to that of Porsche's GT3 R race car and it has very unique features. The front bumper is identical to that of the 911 GT3 but the lower bumper sits wider, and lower and features a new splitter. The front store well loses its place and now in its place are actual vents that direct the flow of air.
Porsche has been very adamant on the importance of shaving down weight and they've done this by utilizing carbon-fibre reinforced plastic components where ever they could. The 992 GT3 RS uses CFRP doors, front wings, roof and front lid. Altogether these CFRPs achieve a mass of 1,400 kilograms.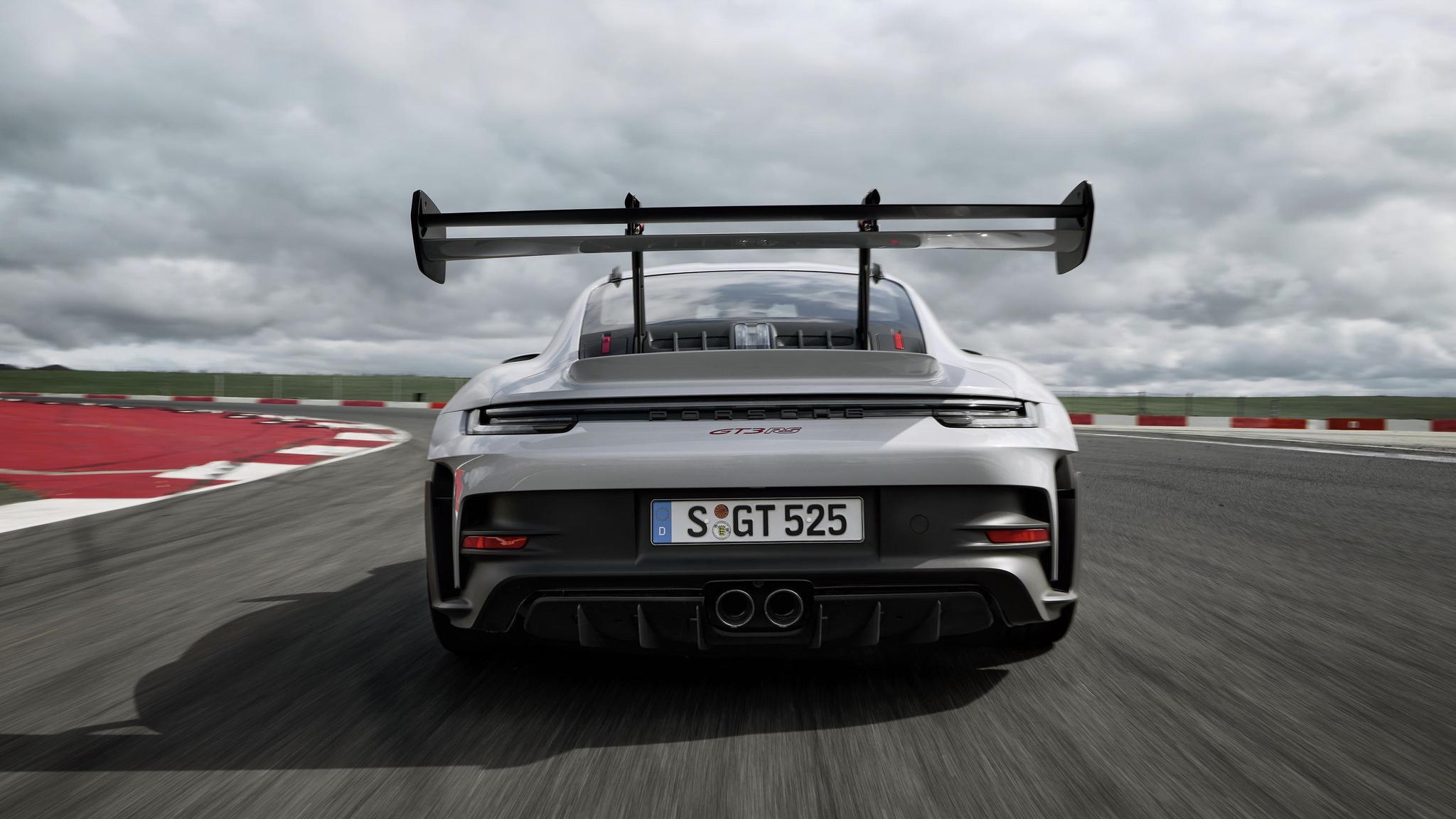 In the side profile the GT3 RS grows wider wheel arches, even more vents all around and on the roof, there are two flaps that contribute to aerodynamics. The rear of the car is the most extreme with its hard-to-miss huge wing that has active flaps. The rear diffuser is similar to that of a GT3 but has a bit more exaggeration as well as those centre-mounted twin pipes.
DRAG REDUCTION SYSTEM
The Porsche GT3 RS features a very smart DRS on that massive rear wing that can reduce by almost 30 percent when activated. Mr Andreas Preuninger has expressed how much work has gone through the aerodynamics and the aero package and what a marvel this is. The aero package starts off by losing the 3 radiators in exchange for a new centrally mounted radiator system, which has allowed Porsche to install new aerodynamic elements at the front.
The aerodynamic package is capable of producing up to 409 kilograms of downforce at 200km/h twice as much as its 991.2-gen predecessor, and 860 kilograms at 285km/h.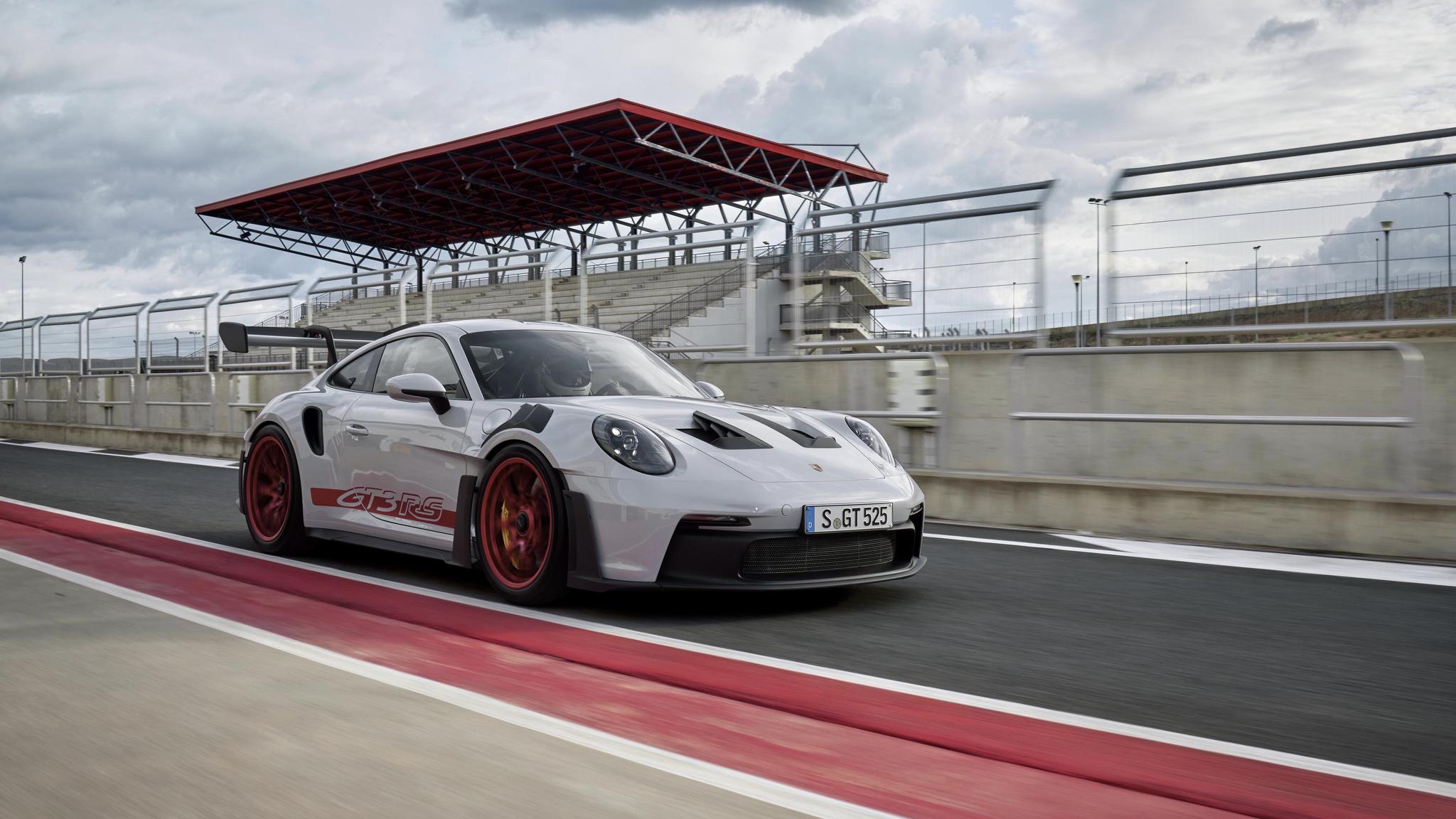 As you can imagine in the cabin the car is absolutely flooded with Alcantara suede, it loses the back seats in exchange for a little shelf you can place your racing helmet and gloves. A prominent feature has to be the roll cage that can either be painted in contrast to the colour of your GT3 RS or it can be fully carbon fibre (if you choose the Weisaach option).
Because the Porsche has a lot of important wiring and vital tech running through the cabin, you are afforded the same infotainment display you get in lower-level 991s.
The GT3 RS wheels will have massive 408mm discs that will be clamped by 6-piston callipers while the rear wheels feature 380mm discs that will be clamped by 4-piston callipers. An option of Carbon Ceramics is available if you feel you need more stopping power.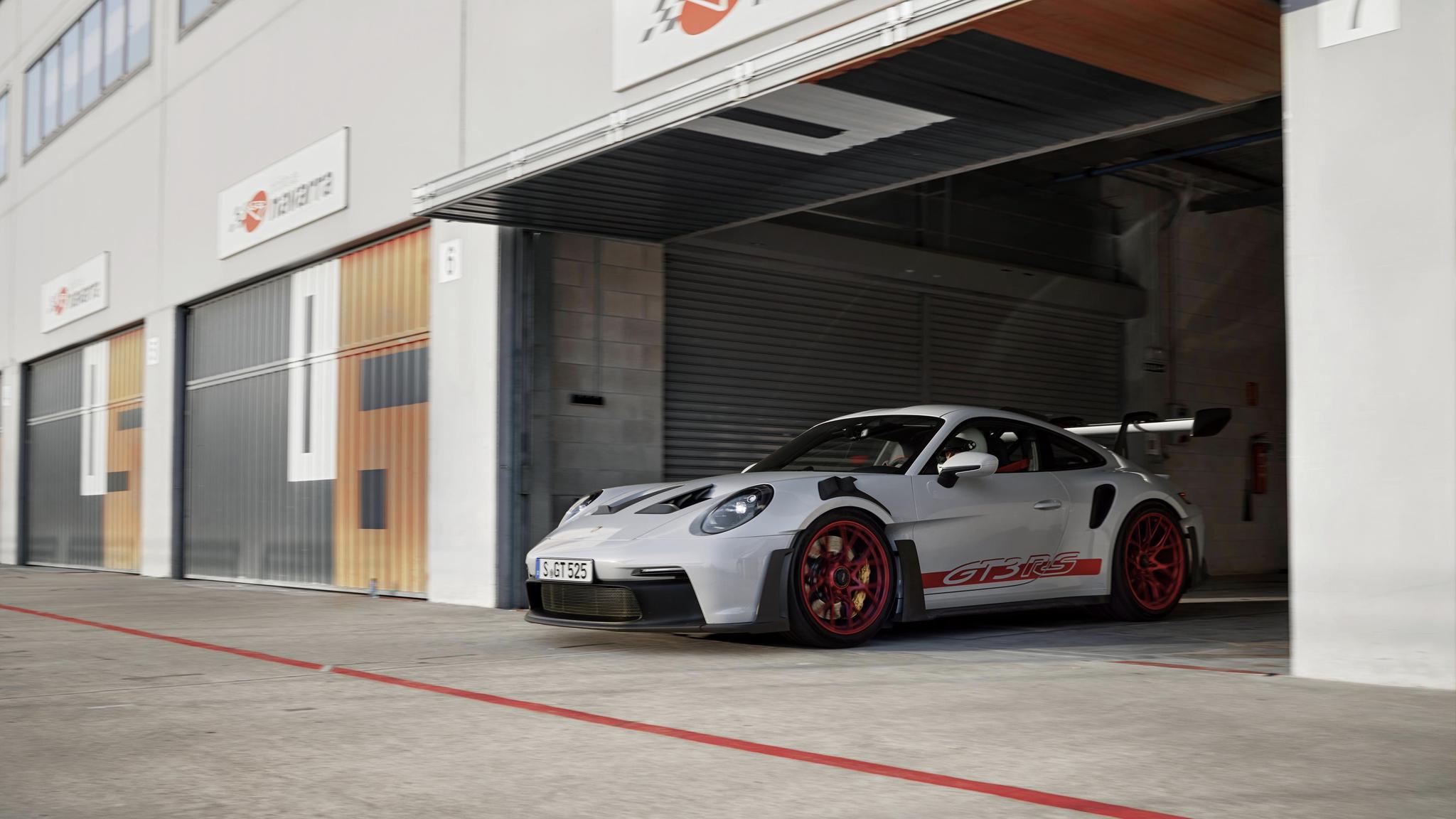 Engineers have given customers the luxury to alter and tailor the GT3 RS's suspension to different track and tyre conditions. The Porsche engineers have also gifted customers the ability to set the preferred level of compression and rebound damping for both front and rear axles individually. Lastly, you can also set the locking action of the differential.
The GT3 RS will feature Porsche's winning recipe of the 4.0 Flat-six naturally aspirated engine that has suffered just a slight power increase of 386kw. This power nudge is a result of new camshafts with modified profiles.
The GT3 RS can go from 0 to 100km/h in 3.2 seconds and can achieve a top speed of 296km/h.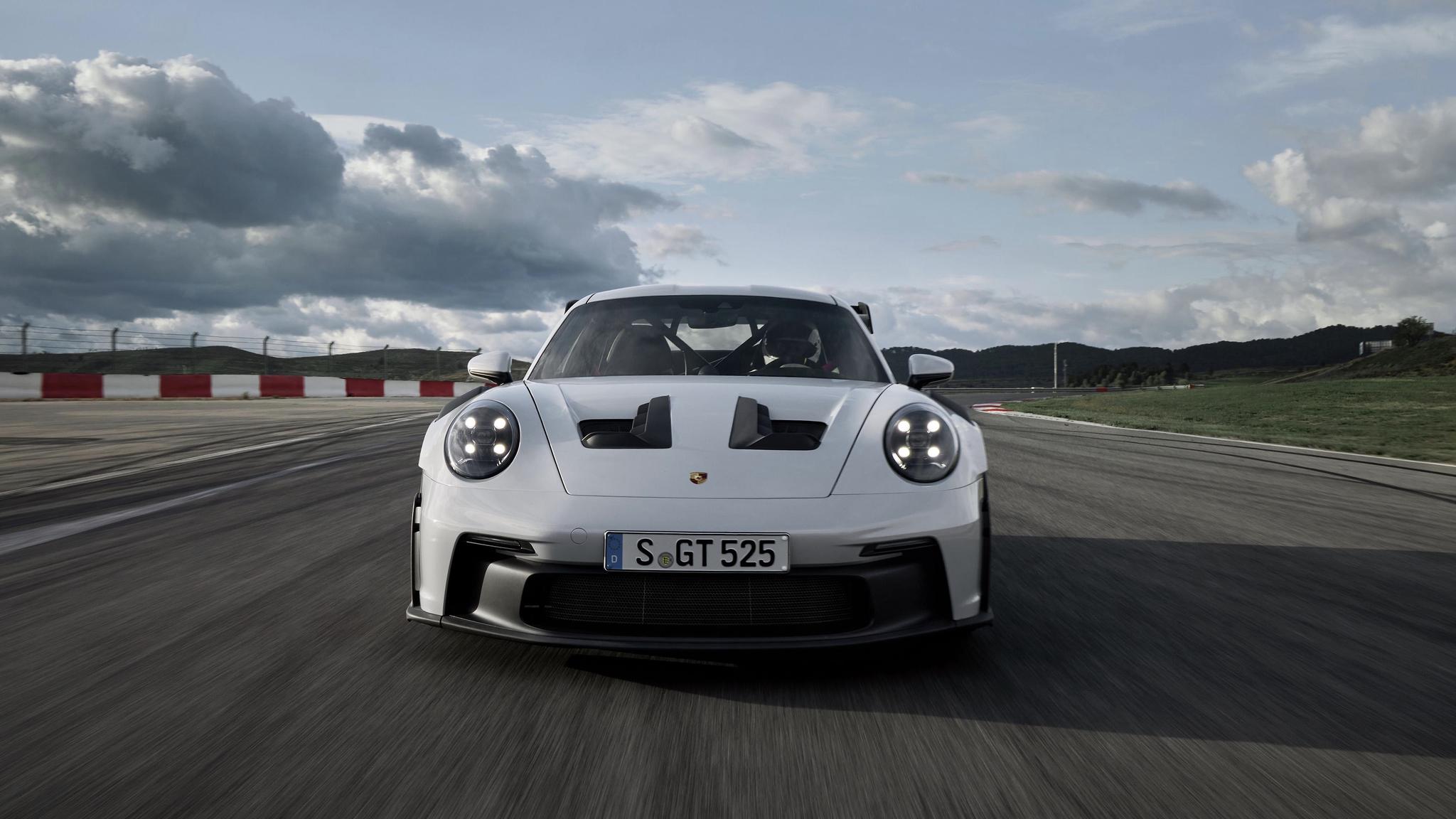 The wonderful Flat-six naturally aspirated engine will be mated to a 7- speed PDK that sends power to the rear wheels. The gears will have a short ratio holding to encourage a shorter final drive than the 991 GT3 for improved performance.
The new hardcore GT3 RS will set you back a cool R4 153 000 in South Africa while customer deliveries are estimated to start in early 2023.