Driven - 2021 Ford Mustang Mach 1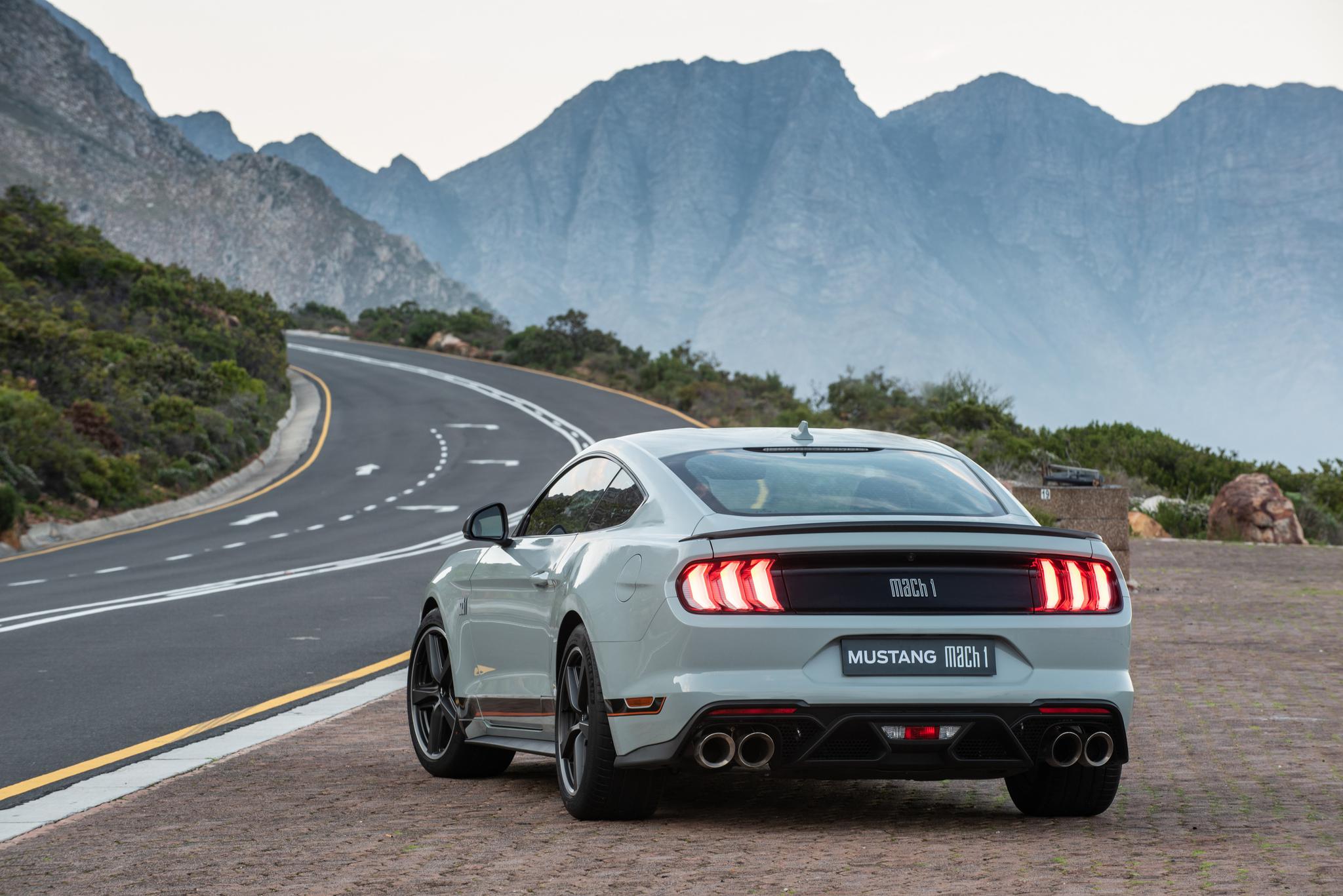 Quick Facts
Price: From R1 182 100 
Engine: 5.0-litre naturally aspirated V8 
Power/Torque: 338kW / 529Nm
Transmission: 6-Speed TREMEC or 10-speed AT
0-100: 4.4s
There are some cars that are impossible to describe, cars that have been described as great cars by our grandfathers. The Mustang Mach 1 is one of that car. I would have probably been happy just being a passenger in this one, however,  I had the chance to be behind the wheel and to experience the full brunt of the 5.0-litre naturally aspirated V8 engine of the 'stang'. 
With only 90 units allocated for our beloved South Africa, enthusiasts scooped all of the units without blinking.  (75 automatic Units and 15 manual units)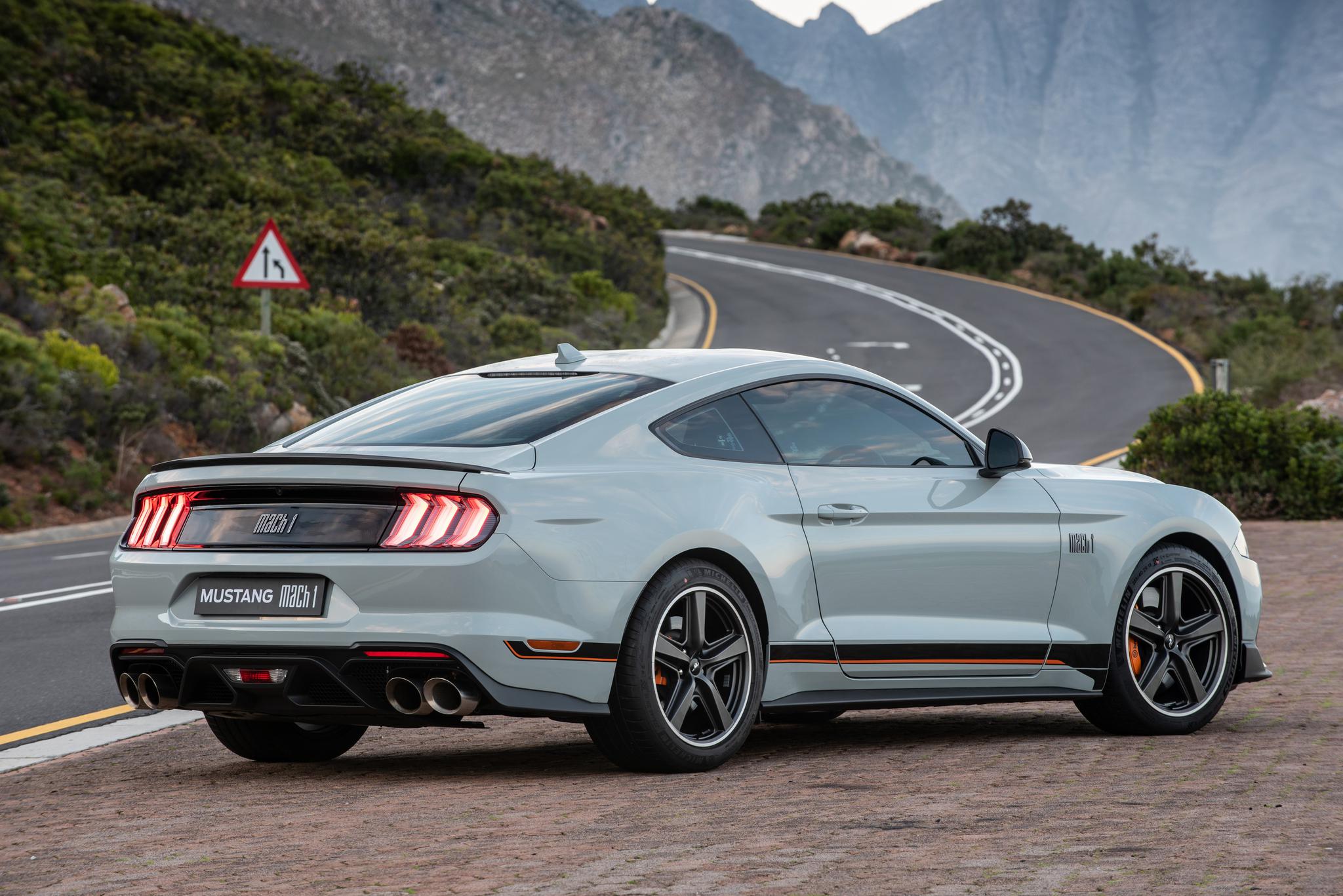 1. The most track-focused Mustang yet  
The 2021 Ford Mustang Mach 1 is said to pay tribute to the original, iconic 1969 version – but with all the modern design and performance attributes that have helped make the current-generation Mustang the world's best-selling sports car. The reason this is the most track-focused Mustang yet is that the 2021 Mustang Mach 1 spot an Air Induction System, intake manifold and 87mm throttle bodies with low-pressure port fuel injection and high-pressure direct fuel injection for 338kW of power at 7 250r/min and 529Nm of torque at 4 900r/min.
There is also an auxiliary engine oil cooler and a new engine oil filter adaptor to ensure optimum oil flow and consistent performance on the track.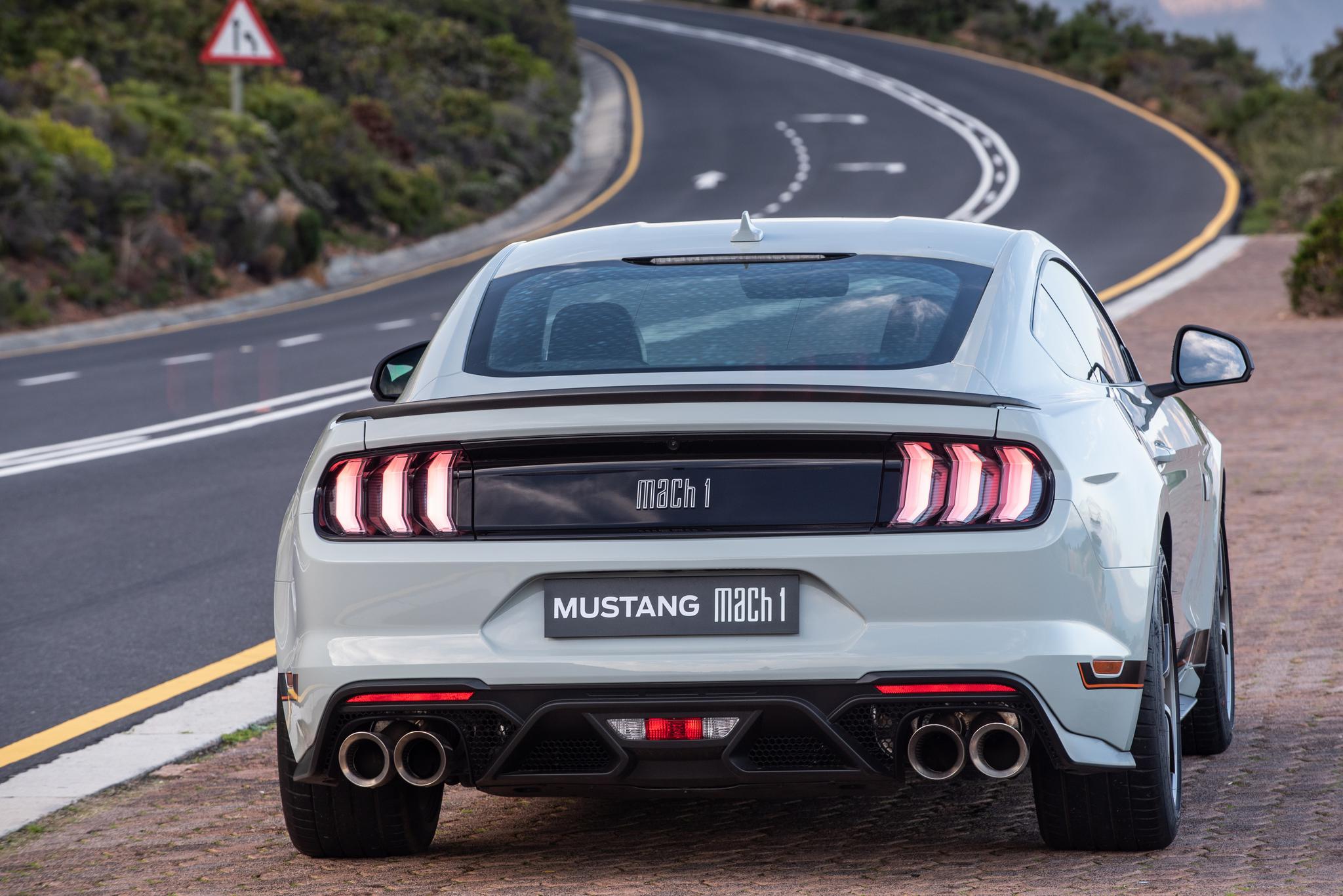 2. Amazing Soundtrack (Inside and Outside)
Outside, The 5.0-litre V8 delivers a sound that is impossible to describe in words, the option to also quietly start the big beast is available however I am confident that most of the owners will be making use of that option. The sound is made possible because of the bespoke-tuned Active Valve Performance Exhaust system that features four chromed 4.5-inch tips for an unmistakable look in addition to the unique sound.
If the sound on the outside was not enough for you, there is a premium 10-speaker Bang & Olufsen Sound System in the cabin.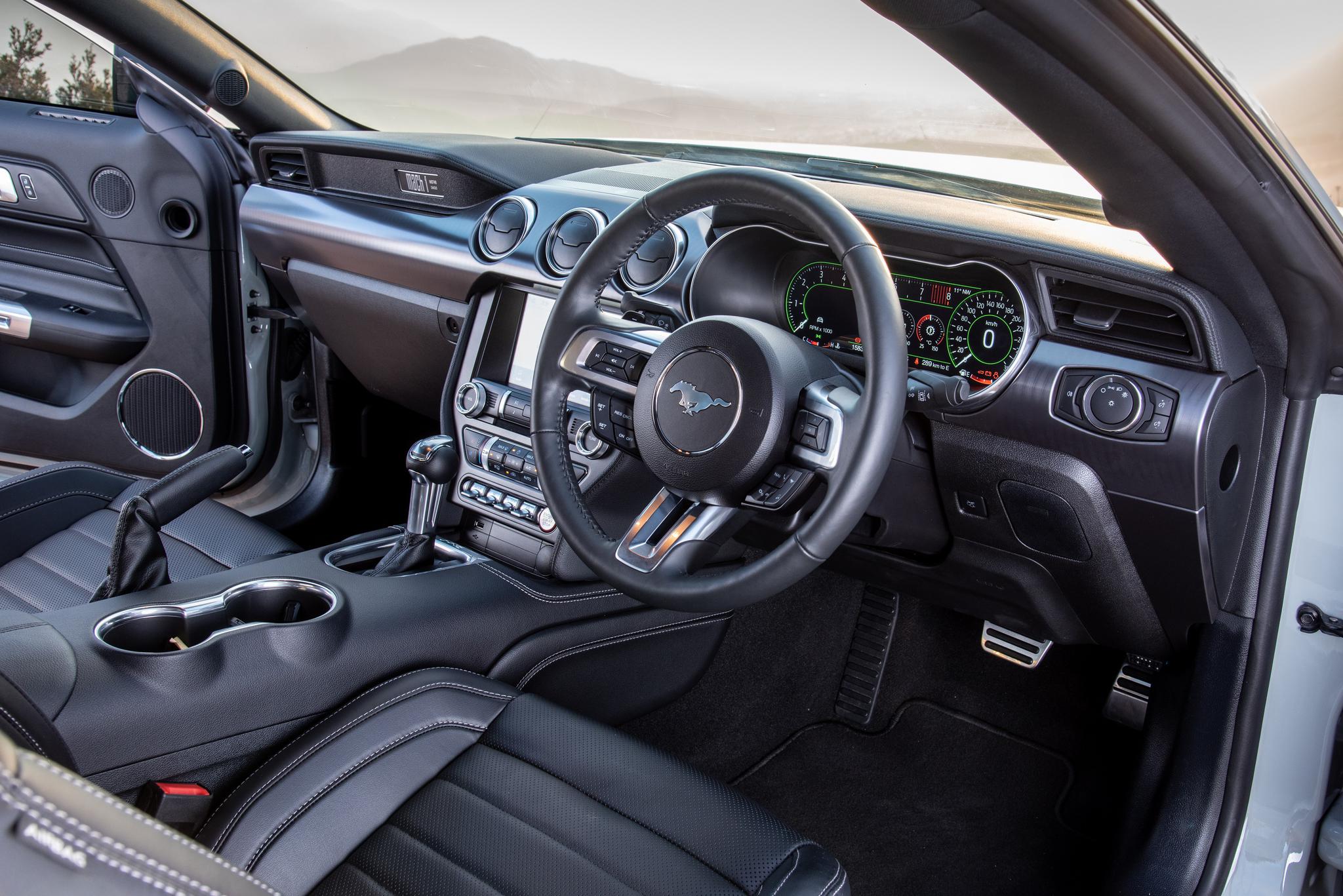 3. Unique Unicorn
Signalling the Mustang Mach 1's exclusive status, all units in South Africa are painted in the metallic Fighter Jet Grey colour, complemented by satin black/reflective orange stripes – which also adds orange brake Brembo callipers. Mach 1 logos appear on the rear decklid and on the front wings reinforcing this model's proud heritage.
The newest generation's styling is strongly influenced by aerodynamic features including the front grilles, front splitter, rear diffuser and rear spoiler in distinctive high or low-gloss black and Magnetic finishes. Unique 19-inch wheels are finished in moody, low-gloss Dark Tarnish.
The uniqueness also continues inside with black leather sports seats that feature Metal Grey stitching and each Mustang Mach 1 interior includes a dashboard badge with Mach 1 logo and build number.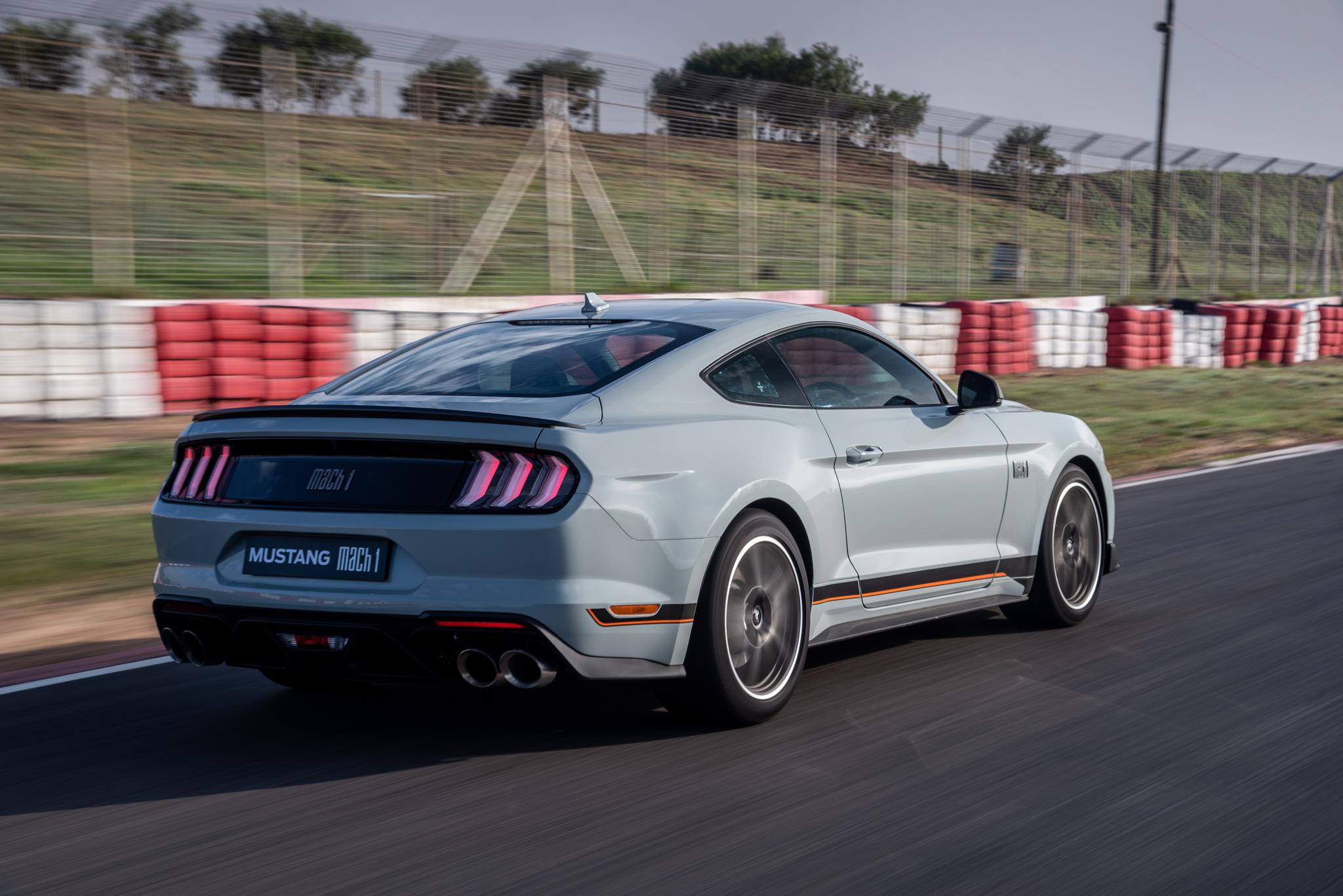 4. It is Fast! Check out some of these stats!
Mustang Mach 1

TREMEC six-speed manual transmission

Ford 10-speed automatic transmission

Power

338kW @ 7 250 r/min

Torque

529Nm @ 4 900 r/min

Acceleration 0‑100 km/h

4.8 seconds

4.4 seconds

Acceleration quarter-mile (400 metres)

13.0 seconds

12.6 seconds

Braking 100-0 km/h

31.8 metres

31.9 metres

Top speed

267 km/h

249 km/h
Verdict
The Mustang Mach 1 is something special, a true muscle car that handles exceptionally well. The attention it receives will always make you feel amazing and the fact that there are only 90 units in South Africa, owners who have scooped all of these units have done an amazing job because even if there may be faster coupes or sedans, this is is a Ford Mustang Mach 1. That it! They will always have bragging rights.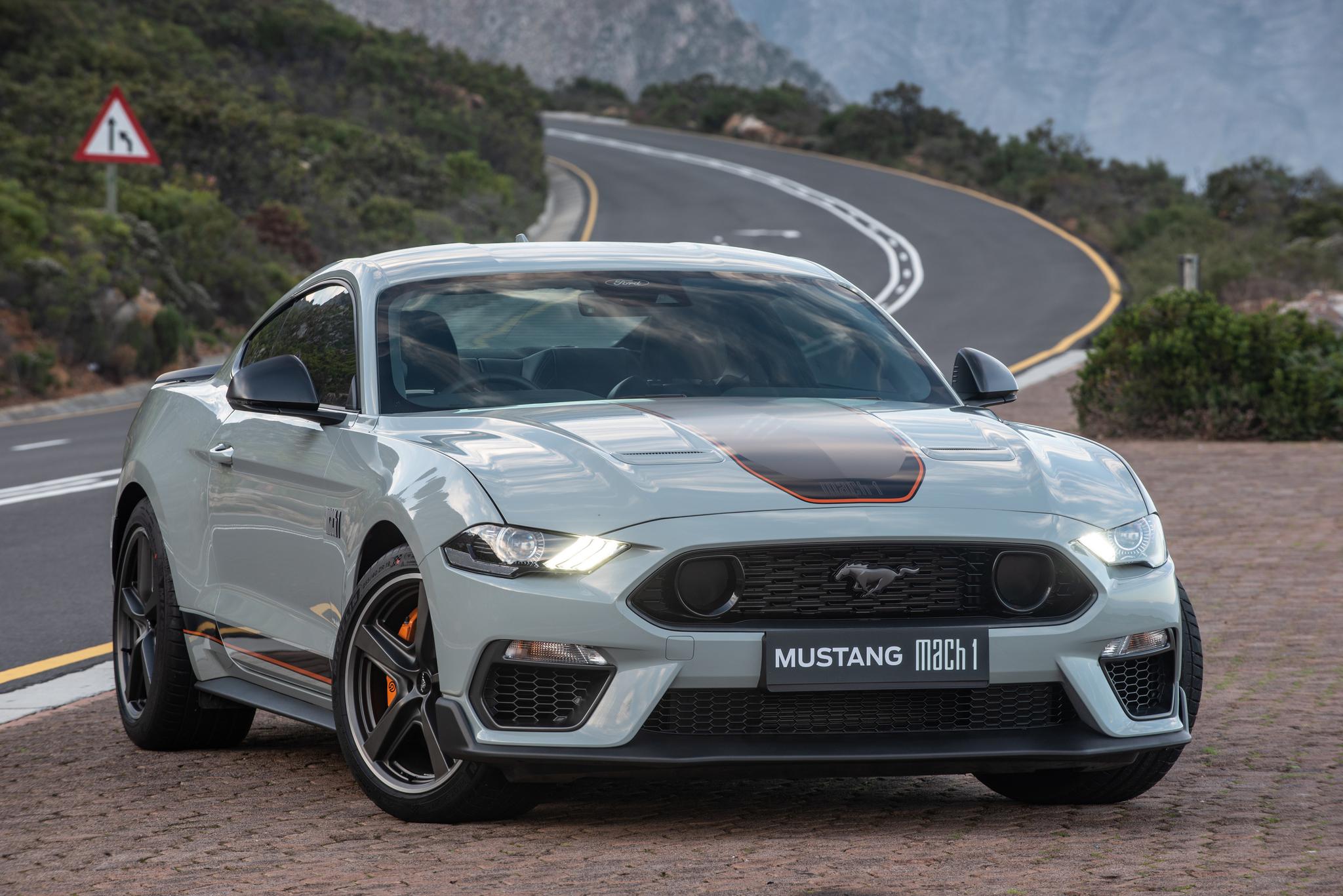 PRICING
Mustang Mach 1 5.0 V8 6MT R1 182 100 incl. VAT
Mustang Mach 1 5.0 V8 10AT R1 203 800 incl. VAT
All Mustang models come standard with Ford Protect, comprising a four-year/120 000km comprehensive warranty, three-year/unlimited distance roadside assistance and five-year/unlimited km corrosion warranty. A six-year/90 000km service plan is included, with 15 000km service intervals.