The all-new 2023 Volkswagen Amarok
By Aphiwe Nzimande
The long-awaited global reveal of the beloved Volkswagen Amarok has finally taken place and it must be said that it was worth the wait. The Amarok has undergone an immense change both inside, outside and capability-wise but it still retains its overall identity.
The new Amarok will share a platform and is based on the new generation Ford Ranger as it will share key mechanicals and bring forth new innovative modernization technologies over its predecessor that was undeniably dated but that is what we overlooked because of what was in the bonnet.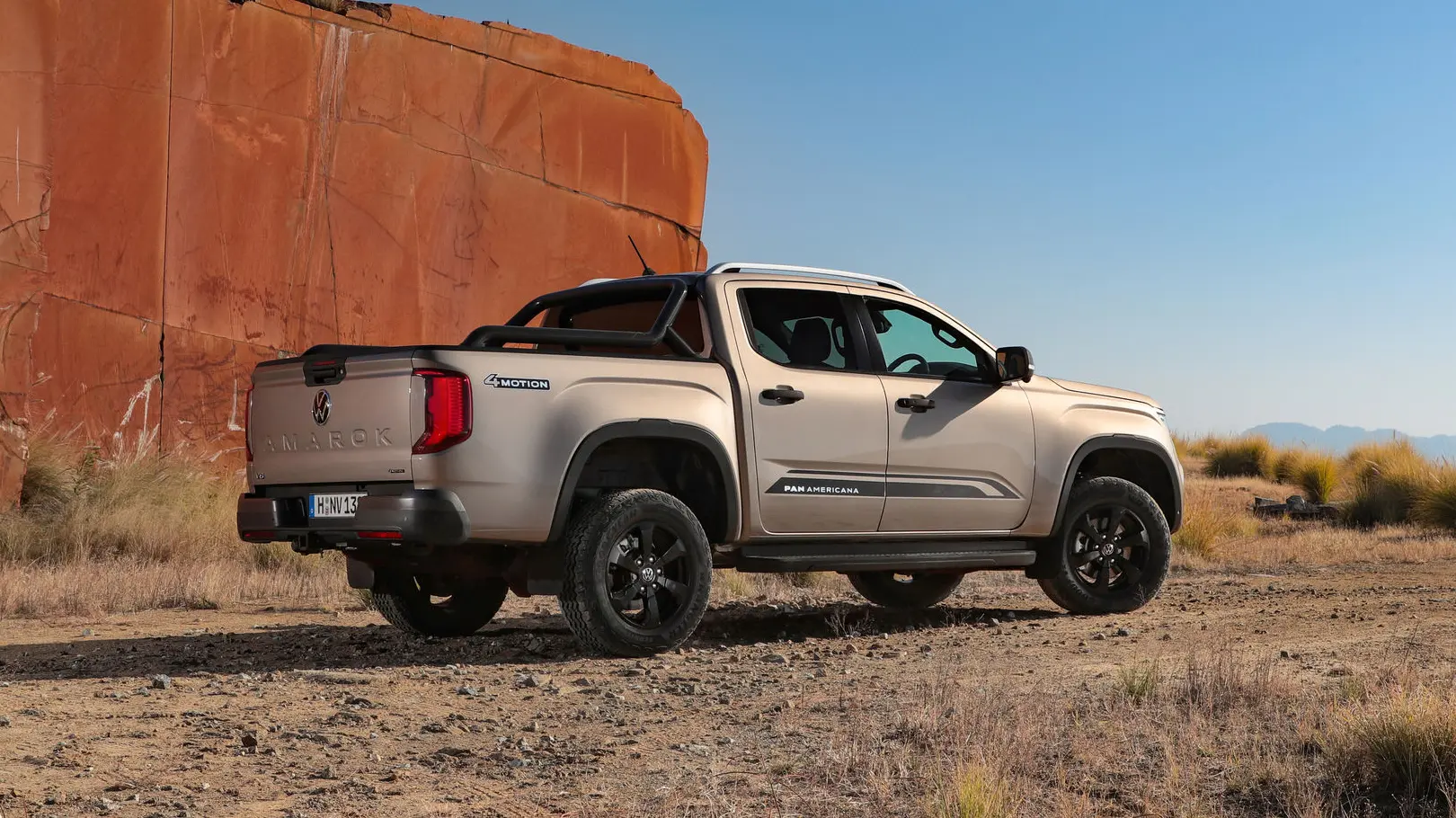 Now do not worry about these products looking identical or in any way similar as both brands have highlighted now and before that their alliance will be based on not more than just mechanics and that their products will be unique and distinctive from one another.
The exterior is far from noticeable while the overall vehicle boasts a confident and more muscular presence. The front bumper has completely changed now hosting an X-shape layout with the feature of new rectangular I.Q LED lights that are simply integrated within the vehicle's new grille setup.
The Volkswagen Amarok's loading bay has enough space for a claimed 1.16 tons and there is enough space for a Euro pallet loaded sideways, there is even an electrically operated roll cover.
For the loading-bay customers will have the option to accessorize however way they find fit. The accessories range from tents, bike racks, toolboxes, styling kits, larger wheels etc.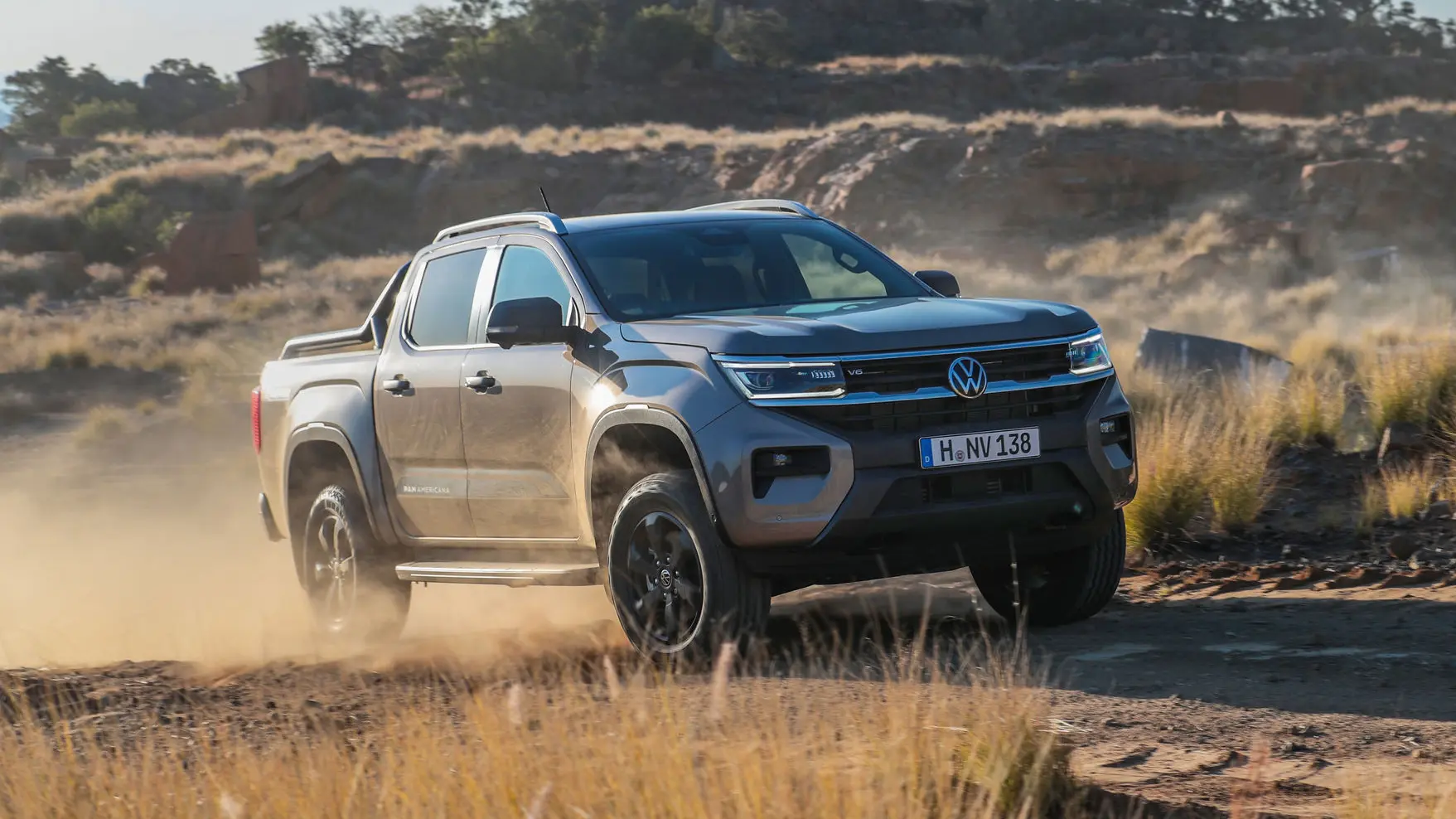 The new Amarok will have up to eight different choices of body paint to choose from midnight black, deep grey, bright blue, bright beige, light grey, mid blue, dark grey and finally clear white.
The overall length of this vehicle has been increased and now sits at 96mm longer than before. The wheelbase has also increased by 173 mm and this spawned the opportunity for the vehicle to host shorter overhangs and also have more rear legroom inside the cabin.
At the rear, there are strong contour lines that run along the new C-shaped LED taillights and tailgate as well as some bold embossed "Amarok" detailing to remind anyone behind you in traffic of what exactly they're following.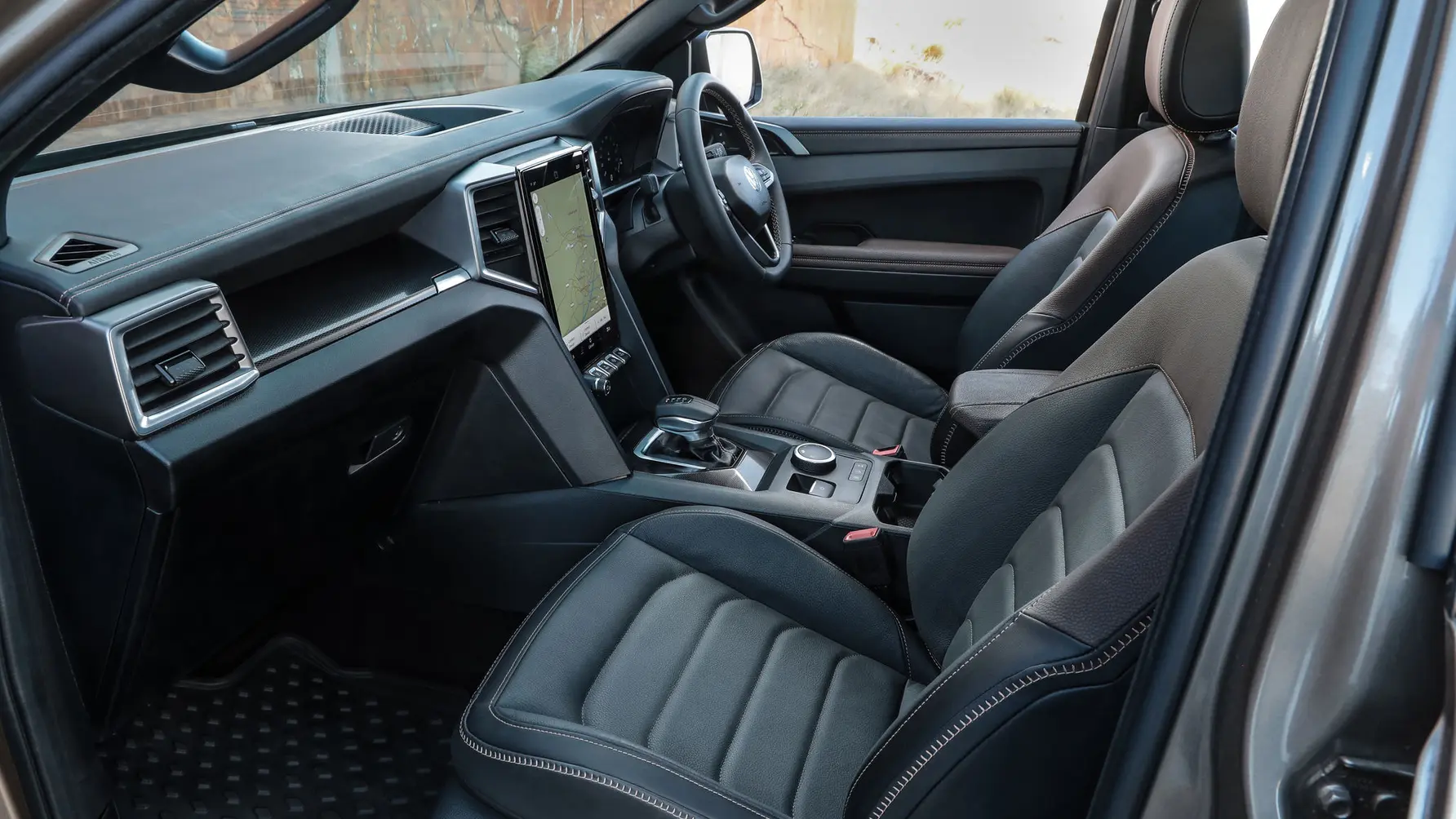 In the interior the car is absolutely flooded with massive screen displays mainly, the vertically mounted infotainment display that can be specified between 10 inches up to 12 inches ( wireless Andriod auto and Apple Carplay connection as standard.) In the driver's view sit either an 8-inch or 12-inch digital cockpit display which can be customizable to show the driver important figures, maps, dials etc.
There are ample USB ports within the cabin, a Harman Kardon sound system for the top-of-the-range model and even an inductive charging pad in the front centre console below the infotainment touchscreen. Volkswagen's theory with the styling of the Amarok's cabin was to blend these massive touchscreens with old-fashioned buttons to keep the sense of raw-ruggedness that Amarok lovers want alive.
Volkswagen will offer its next-generation Amarok in five trims which are the Amarok, Life, Style, Pan-America, and Aventura.
There will be 5 engines to choose from that will power the mighty VW Amarok, Four turbocharged diesels and one turbocharged petrol.
Three 2.0 litres four-cylinder diesels are being offered. The base model will be a single turbo unit that is good for 110kw/350nm or 125kw/405nm.
The base is offered with rear-wheel drive and a five-speed manual transmission as standard as the latter earns the choice of rear or switchable four-wheel drive with either a manual or automatic transmission the choice is yours.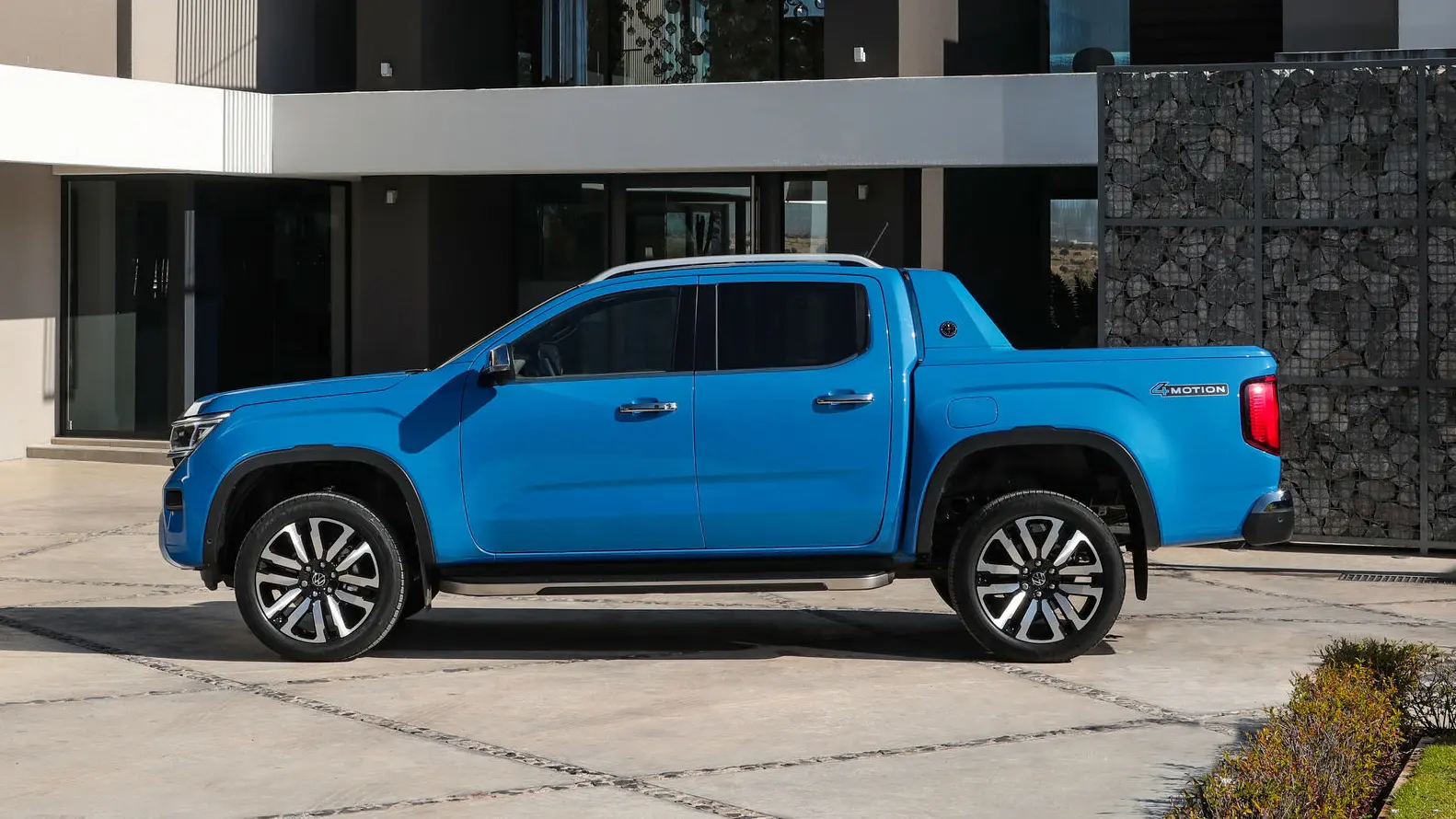 Next in line is the Bi-turbo unit that produces 154kw or 150kw and 500nm of torque. At the top of the rank sits the fan favourite 3.0-litre Turbo-diesel V6 which outputs 177kw or 184kw and 600nm depending on the market.
Permanent 4Motion all-wheel drive as standard or selectable all-wheel drive with low range will be available to only selected markets
Consumers will be able to choose from manual five or six-speed transmissions and if you opt for an automatic transmission you can either have a six or 10-speed transmission.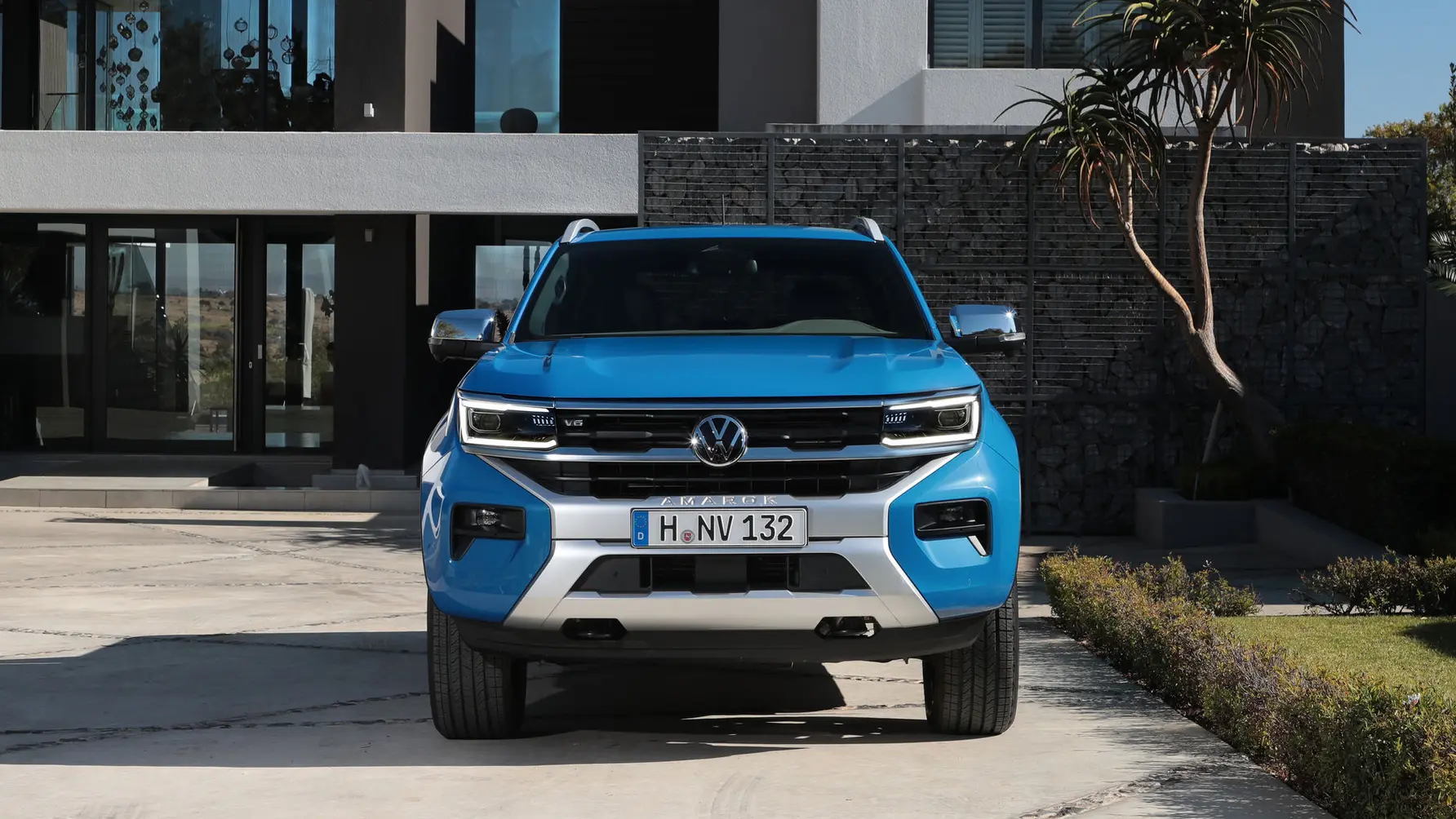 The 2023 Amarok will be crammed full of driver assistance systems, 30 of those will be available to be precise although it acquires 20 new assistant features of the total 30. The available driver aid will have things like Hands-free parking, traffic sign recognition, autonomous emergency braking, surround-view camera and so on.
As already mentioned above the 2023 Volkswagen Amarok will share its platform with the Ford Ranger and both will be locally manufactured at Ford's South African Silverton plant in Pretoria.
Nothing yet has been specified about the Amarok apart from its local manufacturing, pricing and specs are not officially announced but we suspect this will happen in the coming days, watch the space for updates!!